BILLERICA - F. Virginia (Acher) Williams, 90, a Billerica resident and an active Lowell hospital volunteer who was part of an elite corps of female pilots that trained to support the military during World War II, died Saturday, June 7, at her home in the North Billerica section of town. She was the wife of Edgar A. Williams.
She was born in Valley City, N.D., on July 16, 1912, daughter of the late Dr. Rudolph A. and Virginia M. (Pate) Acher. She lived in Indiana from the age of 5 until her marriage in 1946. Mrs. Williams received her bachelor's degree in education from Indiana State University in 1934, and received a scholarship to complete her master's in education at Syracuse University in 1938.
While dean of the women's staff at Michigan State Teacher's College, she learned to fly planes, and joined Amelia Earhart's 99's, an organization of female pilots.
In February 1943, Mrs. Williams joined the Women's Air Force Service Pilots (WASPs) to support the war effort. She attended flight training at Avenger Field, Sweetwater, Texas. As a result of the huge losses of B-17 heavy bombers in Europe, trainees who had the best flight scores on the AT-6 were sent to B-17 transition training. Mrs. Williams was one of only 13 graduates to earn that honor.
In addition to being a partner in her husband's business, she was active in a wide variety of organizations including the Library Board, the Republican Town Committee, and the Concord Chapter of Daughters of the American Revolution. She contributed more than 1,000 hours of volunteer work at the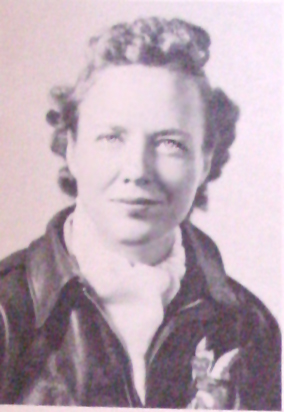 Lowell General Hospital and was an active volunteer at the Museum of Science in Boston.
Mrs. Williams was a member of the First Congregational Church of Billerica and, at various times, was active in the Sunday school, Aim High and other functions.
Besides her husband, she is survived by three sons, Robert A. Williams of Chapel Hill, N.C., Richard E. Williams of Westford, and K. Stephen Williams of Craftsbury, Vt.; and eight grandchildren.
She was also the sister of the late Dr. Robert P. Acher and James D. Acher.
Published in the Lowell Sun on 6/11/2003.
see the online version w/ guestbook
Virginia Williams, Page 2--from WASP Lois Nash