VIDEO

PODCASTS

SOUNDBYTES OF THE WASP short clips from the Wings Across America WASP interviews.
NOTCHING THE TREES (Nancy Parrish's short speech--West Texas Girl Scout "Women of Distinction" Luncheon, 2005

Faster downloading movies -- at webshots

SOUNDBYTES OF THE WASP--apx. 6 minutes (mpg)

BRIEF HISTORY of the WASP flash movie--apx 5 minutes

NOTCHING THE TREES-- flash movie at webshots

WASP put their hands in cement--2005

If you would like to HELP keep our site growing,
please visit Wings Across America
and find out more about our project!

Eventually, we will be publishing a VIRTUAL MUSEUM
with WEB PAGES for EVERY WASP interviewed!


Fly Girls Exhibit opening, 2008


NOTCHING THE TREES


REAL VIDEO FILES

Bruce Arnold--the formation of the WASP
Sandy Thompson --flying the B-26
Bruce Arnold--WASP accidents vs male cadets
Sandy Thompson-- 43-5-- the B-26 boneyard
Lorraine Z. Rodgers--44-2-- bailing out
Deanie Parrish --44-4-- going up to check the weather
Marion Brown--43-2-- ferrying by dead reckoning
Ruth Dailey Helm --43-2 --the greatest generation|
Kay D'Arezzo--44-4--a little bit more
Millie Dalrymple--44-4 --you can do it
Shutsy Reynolds --44-5-- the cross country trip
Mary Howson's mother about the death of her daughter
Marion Brown--43-2-- ferrying by dead reckoning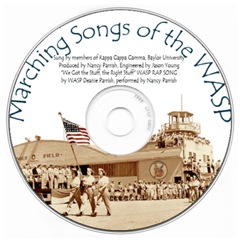 WASP SONGS-- see the lyrics to the songs the WASP sang while marching to and from the flight line and ground school. CD includes the WASP Rap, "We Got the Stuff, the Right Stuff." Click the CD to hear samples of the mp3 files.
If you'd like to listen, CLICK the CD. STEP BACK IN TIME WITH THE MUSIC OF WWII.

MAKING THE WASP WINGS!!!
WASP Shutsy Reynolds in her shop--as she explains making the wings. Shot by Honey Godwin, edited and produced by Nancy Parrish.

WASP Ruth Florey -- a special presentation at the CAF HQ in Midland -- Texas Aviation Hall of Fame

WASP BJ BROWN -- EAA interview

WASP Jan GOODRUM -- EAA interview


WASP ETHEL FINLEY -- EAA interview

Kaddy Landry Steele -- the WASP Storyteller



WASP DOT SWAIN LEWIS -- EAA interview


WASP JEAN MC CREERY -- EAA interview


BETTY JO REED -- EAA interview
LILLIAN YONNALY'S-WWII SLIDE SHOW
Janet Reno's
speech (with text) at the WASP 50th reunion in Sweetwater
WASP
Shutsy Reynolds
(1998) at the Lone Star Flight Museum talks about Avenger Field and deactivation--getting home on ten dollars and a quarter!

K I D S | S P E A K
WASP Kids have a few things in common.