R E M E M B E R I N G

|

M A R Y
1944: Mary Howson, a recent graduate of Smith and a WASP trainee, was killed in a mid-air collision near Avenger Field in Sweetwater, Texas just three weeks before she was to graduate from the AAF flight training school at Avenger. Her flight was returning from a 'cross country' that day as the news of a mid-air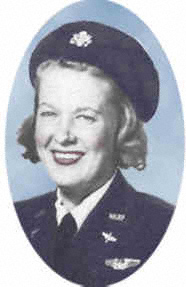 collision filled the air-waves and spread throughout Avenger Field. It was soon learned that a trainee in one of the lower classes had not landed after taking off on her first solo flight--but who was in the other aircraft? As each of the trainees from class 44-W-4 returned and landed her plane safely, the list of 'unaccounted for' aircraft grew shorter. At last, there was only one plane which had not returned. Its pilot? Mary Howson.
Mary's body was shipped home to Pennsylvania in a cheap pine box, her funeral at the expense of her family. Her classmates took up a collection so that a classmate could escort her body home. Because the WASP had not been officially recognized as 'military', there were no benefits and no gold star allowed in the window of her parent's home to signify that a person in that household had been killed in the line of duty. Her classmates and family were not even allowed to place an American flag on her coffin.
Some four weeks after Mary's class graduated, her mother requested permission to come to Avenger Field and address the trainees. She wanted them to let their families know what to expect if anything should happen to their daughter so they would not be as totally shocked as she had been when she was notified of Mary's death. As she traveled from Pennsylvania to Texas, she carried with her the telegram which she had received from the War Department. As she finished talking to the trainees, she opened the yellow telegram and read it to them. All it said was, 'Your daughter was killed this morning. Where do you want us to ship the body?'
On Memorial Day weekend, 2005, the 1929 hangar on Avenger Field was officially opened. During the ceremony, a thirty-five foot flagpole with an American flag was unveiled. It was donated by one of Mary's classmates, and placed on the grounds as a permanent reminder, to all who pass by, of the service and sacrifices of the courageous young women pilots of WWII and the freedom they helped preserve.
In 2010, on March 9, Mary's brother, Arthur Howson, along with his daughter, Anne, were at a special ceremony in Washington, DC, to remember. Air Force jets performed the "Missing Man Formation" in the skies above the Air Force Memoiral, in memory of Mary and the other WASP killed while flying for our country. Each of these young women were awarded the Congressional Gold Medal.