She was born Sarabel Duncan on June 15, 1920 in Richmond, Virginia.
She entered training at Avenger Field, Sweetwater, Texas as a member of WASP class 44-W-6. After graduating and receiving her silver WASP wings on August 4, 1944, her orders sent her to Bainbridge Army Air Field in Bainbridge, Georgia where she was assigned as an engineering test pilot for the BT-13's.
After the war, Sarabel stayed home to raise her three children, two boys and a girl. She had many friends and was well loved. Sue was known for her strong will and generous heart. She was an avid golfer and world traveler. After her children were on their own, she was active as a community volunteer--giving her time to two golf courses and volunteering at the local library.
Sue was survived by her two brothers, both WWII veterans. Her brother, Gene, was a 1st lieutenant in the Army Air Force and Pearl Harbor survivor. Her brother, David was a lieutenant JG in the Navy, stationed in the Pacific. Her two sons are both Vietnam Veterans.
If you would ask Sue what she was most proud of in her lifetime, she would say her three children and being a WASP. She is greatly missed by family and friends."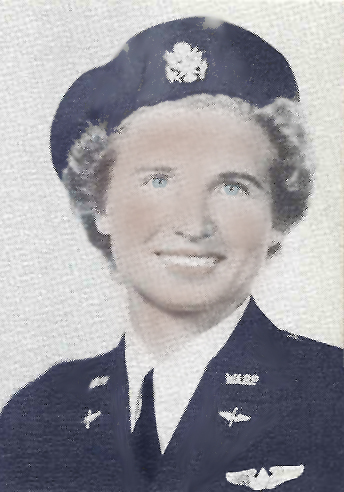 Sarabel D. Booth
44-W-6 Classbook

She died on January 9, 2005. She did not have a service or an obituary printed. The memorial was held at her niece, Nikki's home. As Nikki wrote: "Sarabel (Sue) was well loved."
Her legacy goes on.