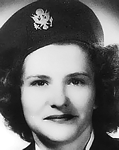 Delrose Sieber, age 89, passed away peacefully in her sleep in OKC on July 30, 2003.

'Sissy,' as she was affectionately known by family and friends, served in the Women Airforce Service Pilots (WASP) in WWII, and later owned and operated the Sieber Hotel in downtown OKC. Her twin sister, DeLois Matthews, preceded her in death on May 6, 1999. She is survived by a sister, Constance Pitlick of Los Angeles, CA; nieces and nephews Judy Dieste and husband Tony of San Antonio, TX; Joan Elder and husband Ken of OKC; Susan Lockhart of Arlington, TX; Melinda Oelrich and husband Dick of Encino, CA; Tony Medley of Marina del Rey, CA; Jan Phillips and husband Wayne of Akron, OH; Ray McMinn of OKC; Tony Dieste and wife Stephanie of Plano, TX; Michael Dieste of Houston, TX; Captain Tim Lockhart and wife Gaby of San Antonio, TX; and Linda Lockhart-Rumsey and husband Brian of Venus, TX. Donations may be made to WASP Endowment, TWU, PO Box 425528, Denton, TX 46204-5528.

Services will be at 1:00 pm Saturday, August 2 at Guardian West Chapel. GUARDIAN WEST 41 & N. MacArthur 495-9292
Published in the Oklahoman from 8/1/2003 - 8/2/2003.
from the guestbook:

I saw in the paper that your family member, Delrose Sieber, had passed away, and that she was a former WASP during WWII. I have done a bit of reading and study about the WASP in the past few years, and I have come to know these women as brave, courageous, intrepid, unique and even heroic.

I wanted to extend my condolences to her family on her passing, and to convey to them my thanks to her for her service to our country.

As the daughter of a WWII Army Nurse and a career Navy Man, I have the utmost respect for those in uniform. The adventurous spirit of those brave women who joined the WASP inspires me, and I shall share their stories with my own children. Oklahoma has lost one of its hidden heroes.

Trish Kuper (Oklahoma City, OK )
August 2, 2003

I did not know Delrose personally, but I do know the sacrifices the WASP made to serve in WWII. I want to thank her & her family for their contribution to our country. As the mother of a young daughter, the legacy of the WASP is important to me because it shows women in action, changing the course of history. These are women with moxie who can teach us all to dream big. What better role models for young women today? It saddens my heart to know one of these great women has passed on. I hope she is now "flying high" with the WASP that preceded her.
Andrea Weir (Derby, KS )
August 1, 2003