April 25, 1923 to June 16, 2003
Marjorie Stevenson Roberts, who served in World War II as a member of the Women Airforce Service Pilots (WASP), died June 16, 2003. A native of Holdenville, Oklahoma, she was the third child of six children born to Alfred and Ruth Stevenson. She became interested in flying while in high school. She was influenced to join the WASP by her older sister, Grace, who was a pilot and flight instructor.
She entered WASP training at Avenger Field, Sweetwater, Texas on March 14, 1944 in Class 44-W-8. After graduation and winning her wings, she was assigned to the BFTS, Cochran Army Air Base, at Macon, Georgia where WASPs performed engineering test flights on BT-13s and AT-6s.
After deactivation of the WASP program, Marjorie enrolled at the University of Oklahoma at Norman. She interrupted her studies at OU to marry Murray Roberts and moved to New Orleans, Louisiana. In later years, she returned to Holdenville to care for her parents and ended her marriage to Murray. Marjorie returned to the university to complete her studies, and received a Bachelor of Arts degree in social sciences.
She remained active in flying. She owned a Cessna 210, and once owned an Aerial Photo Service where she flew the AT-6. She also had a seaplane operation, flying passengers to fishing destinations. Marjorie was a member of the group of Oklahoma WASP who were recently inducted, as a group, into the Aviation Hall of Fame of the Oklahoma City Air and Space Museum.
Marjorie was known to be a very philanthropic person, and was a generous supporter of such organizations as the Audubon Society, Girl Scouts, and the Humane Society. She had a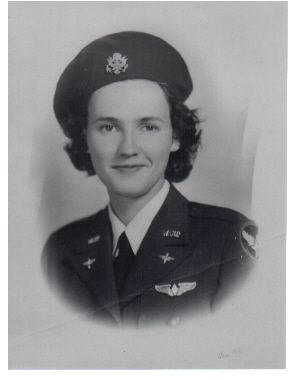 special interest in and gave her support to libraries, and projects involving the environment. She was considered by some family members to be the prettiest of the Stevenson girls. She was an avid tennis player, golfer, swimmer and rode horses.
Her sense of adventure paralleled that of her older sister Grace. Grace went to England with a group of American women recruited by Jacqueline Cochran. They joined more than one hundred British women pilots serving the British Air Transport Auxiliary, Royal Air Force during World II.
Marjorie was diagnosed with Alzheimer's and lived in an assisted living facility with her sister Grace. Grace preceded Marjorie in death on December 29, 2002.