FLORENCE (PAT) LAWLER ROBERSON, 87, formerly of Bullard, Texas, left this earth on December 4, 2003, from Fort Worth, Texas, to make her last flight through the clouds into Heaven.
Pat was born Florence Elizabeth Lawler in Beardstown, Illinois on January 3, 1916, and grew up there and in North Dakota where her parents moved the family to stake out a homestead. She and her brothers, Jim and Bud, grew up knowing hard work and a simple life. After graduating high school, Pat continued her education in Macomb, Illinois, to become a registered nurse. She found a meaningful vocation in caring for people and continued doing so until she became American Airlines' first red-headed stewardess. She absolutely loved airplanes and the traveling opportunities this growing industry afforded.
As much as Pat enjoyed being a stewardess, she was not content with simply assisting passengers and handing out pillows. When the call went out that Uncle Sam needed women pilots to free up men to go off to war, Pat, in a rare act of disobedience, ignored airline rules forbidding stewardesses from taking flying lessons. She was one of thousands about whom Eleanor Roosevelt, in 1942, said, "This is not a time when women should be patient. We are in a war and we need to fight it with all our ability and every weapon possible. Women pilots, in this particular case, are a weapon waiting to be used."
Pat logged the 100 requisite flying hours in short order so as to be eligible for training as one of the Women Airforce Service Pilots. Twenty-five thousand women applied, 1,857 were accepted, and Pat was proudly and humbly one of only 1078 who graduated and flew for our country. She graduated in the WASP class of 43-2, and proceeded to ferry airplanes from point to point within the United States and Canada. Flying the P-39 was her favorite. Men didn't like that plane so much, she said, but she liked its small size, and she loved flying through clouds. She flew until the WASP were disbanded in 1944, then continued to serve her country as a flight nurse in the Army until 1946.
After leaving the service, Pat married another pilot, Army Airforce Captain Richard Roberson, whom she met while taking pilot lessons. Over time and moves between New York and Texas, they had three daughters, Gayle, Michele and Teresa.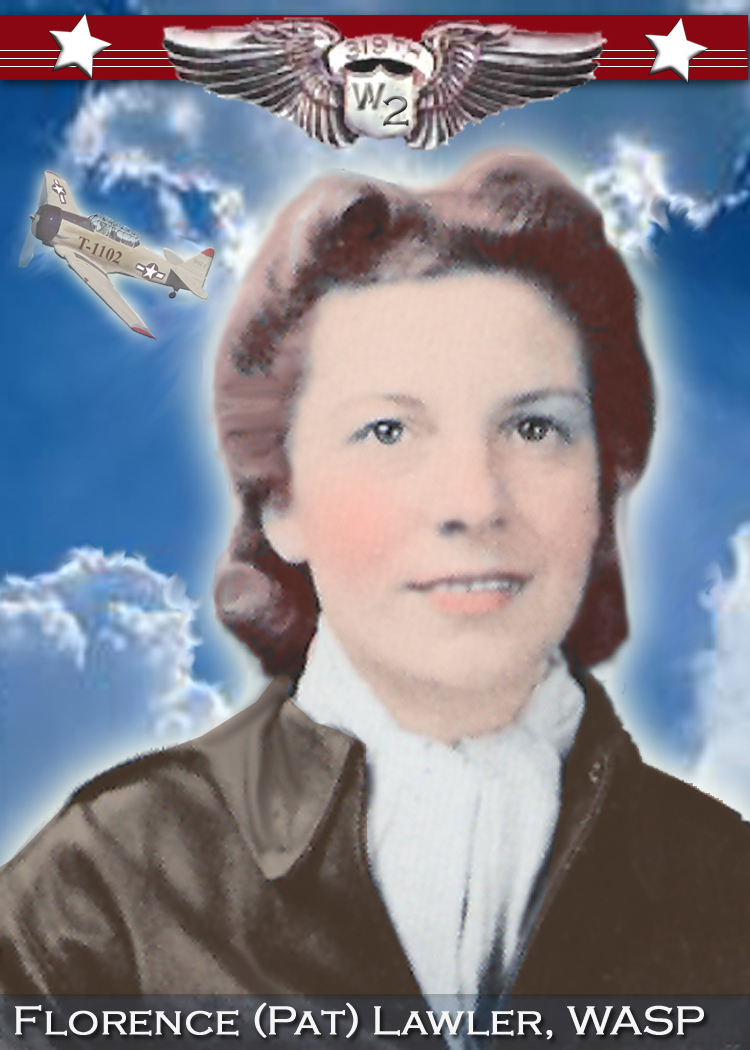 Pat and her husband lived in Tyler until 1974 when she moved with Dick to Chad, Africa, where he took a position as pilot for Conoco Oil. She so enjoyed her time there, being able to travel and learn about foreign cultures and religions, but in 1978, while on an R&R in the States, Dick required a quadruple bypass; he died three weeks later.
After one last trip to Africa to pack up and say her goodbyes, Pat moved to their newly-built log house on Lake Palestine and resumed her career as an RN at Mother Frances Hospital where she worked in the Intensive Care Unit until she turned 75. She thought it best to turn the work over to younger nurses.
Upon retirement, Pat volunteered for PATH to teach the English language to Spanish-speaking adults and also involved herself with His House. She had genuine compassion for her fellow human beings, and helping where she could at the AIDS hospice was something she was glad to do.
Dementia gradually robbed Pat of many memories during her last several years, but not of her sense of humor or of her knowledge of the English language. She could not remember her age when asked, but would not hesitate to gently reprimand anyone dangling a participle. Her heart and her smile were as big as Texas; she never raised her voice in anger and had nary a bad word to say about anyone. Pat regularly attended the Cathedral of the Immaculate Conception and cherished her Catholic faith.
Pat is buried next to her husband in South Park Memorial Park in Houston. She is survived by her three daughters and by her grandchildren, Rebecca Perlmutter, Jedediah Perlmutter and Billie Rae Perlmutter, all of whom loved her dearly and will miss her more than words can tell. She is truly our hero and will remain in our hearts.