Mrs. Anne B. Rawlings, 81, of Rowe Road, North Egremont died late Saturday night November 15, 2003 at Berkshire Medical Center.
Born July 14, 1922, in Fort Dix, New Jersey she was the daughter of Brig. General John C.P. Bartholf and Madeline Tomlinson Bartholf. The family traveled with the Army and Anne attended various schools, graduating from high school in New York and attending Beaver College and Drexel College.
Anne entered the United States Army on August 9, 1943 where she served with the Women's Air Force Service Pilots (WASP). As a WASP, one of the planes Anne flew was a B-26 bomber, towing targets for aerial gunnery practice until being honorable discharged on November 28, 1944. Other aircraft that Anne flew were: Taylor Craft-BC and BL, Cub J-3, Thompson Craft DC65/DL65, LB Aeronica 65, PT-19A, BT-15, PT-17, and the AT-6. Anne logged over 300 flight hours.
While in the service she met and married 2nd Lieutenant John W. Rawlings, Jr. at Kearney Army Air Field Base, Nebraska on October 19, 1944. After the war Lieutenant Rawlings continued his military career enabling Anne to stay at home and raise their two children along with various pets. After Col. Rawlings' retirement in 1972, the family continued to live in New Mexico until 1985 when they moved to North Egremont, MA.
While the family was living in New Mexico, Anne and her daughter enjoyed showing Morgan Horses. Throughout her life, Anne enjoyed embroidery and sewing, and she was an avid reader. Recently, she also took an interest in picture puzzles.
Mrs. Rawlings was a member of the Daedalioans, an association for pilots, the WASP Organization. She also was a member of St. James Episcopal Church in Great Barrington.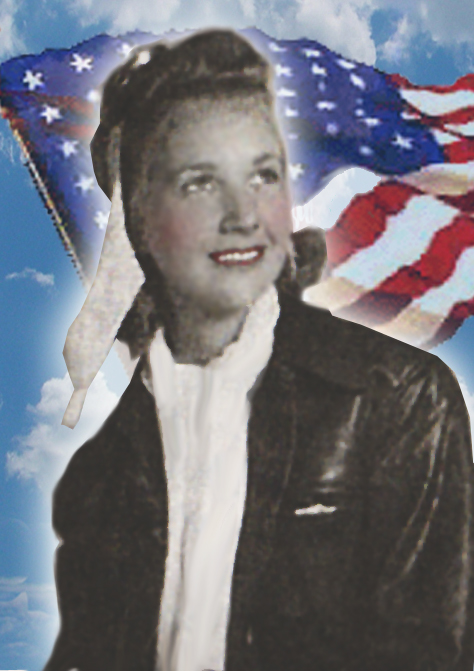 Oh, I have slipped the surly bonds of earth
And danced the skies on laughter silvered wings;
Sunward Iíve climbed, and joined the tumbling mirth
Of sun-split clouds-and done a hundred things
You have not dreamed of-wheeled and soared and swung high in sunlit silence. Hovíring there,
Iíve chased the shouting wind along, and flung
My eager craft through footless halls of air.
Up, up the long, delirious, burning blue
Iíve topped the windswept heights with easy grace
Where never lark, or even eagle flew.
And, while with silent, lifting mind Iíve trod
The high untrespassed sanctity of space,
Put out my hand, and touched the face of God
- John Gillespie Magee
---
She is survived by her husband of fifty-nine years Col. (Ret) John W. Rawlings, Jr.; their two children Madeline "Lynne" A. Sjoquist and her husband Frederick of Tucson, Arizona; and Lt. Col. (Ret.) Stephen H. Rawlings and his wife Beckie Gail of Cabot, Arkansas, along with five grandchildren, Michael L. Adams, Joseph Matthew Adams, Stephanie A. Sjoquist, 2nd Lieutenant Lance W.H. Rawlings and Wesley H. Rawlings. She also leaves her sister, Edith B. "Micky" Clark and husband Capt. (Ret. Navy) R.C. Clark of North Egremont and her brother Brig. General (Ret.) John C. Bartholf and wife Patricia of Lusby, Maryland.
Mrs. Anne B. Rawlings was buried November 25, 2003, at the United States Military Academy (West Point).

posted February 11, 2004
2nd Lieutenant Lance W.H. Rawlings