WWII Woman Pilot Takes Last Flight
Aviation pioneer and author LTCOL Yvonne "Pat" Pateman died in her sleep Apr 4, 2004 near her home in Laguna Woods, CA. The cause was a stroke following a long struggle with Parkinson's disease. She was 84.
LTCOL Pateman entered the Army Air Forces in 1943 earning her wings as a Woman Airforce Service Pilot (WASP). She was the only WASP to have served in three wars (WWII, Korea, and Vietnam). She retired in 1971 after 22 years service a US Air Force Intelligence Officer. She devoted her later years to bringing recognition to WASP and championing women military aviators through her public speaking and publications.
Born in Seawaren, NJ in 1919, she grew up as the youngest of thirteen children. She began working at a NJ electrical plant and soon began to save money for flying lessons. At 22, she completed her flight training by soloing on an icy runway in NY with a ski-mounted J-3 Piper Cub. Her first step toward becoming a WASP began in March 1943 when she entered military flight training at Avenger Field, Sweetwater, TX. She was one of 1,830 women to be accepted for this training. Upon graduation, she flew as an engineering test pilot and ferried aircraft from factories to ports of embarkation until the WASP were disbanded in Dec 1944.
After her WASP service, she went to California and worked initially at Monrovia Airport. Aero Trans, Inc in Glendale then hired her as a pilot to deliver civilian aircraft from factories to buyers. She became a Chief Instructor Pilot at Culver City Airport. In 1949, she accepted an USAF Reserve Commission as a First Lieutenant and was assigned to a Volunteer Air Reserve Squadron.
During the Korean War, then-Lieutenant Pateman was recalled to active duty and assigned to the 78th Fighter-Interceptor Wing at Hamilton AFB. Because the USAF did not use women as pilots at that time, she was placed in the Intelligence career field and served in the Philippines and Japan.
During the Vietnam War, LTCOL Pateman was assigned as Chief of 7th Air Force Warning Division from 1969-1970 at Tan Son Nhut Air Base. Her final assignment prior to retirement in 1971 was as Chief of the China Air and Missile Section of the Defense Intelligence Agency.
LTCOL Pateman served as an Intelligence officer at all levels of Air Force units from squadron to joint service commands such as the Alaska Command and Defense Intelligence Agency.
During her USAF career she was awarded the Bronze Star (Vietnam), Meritorious Service Medal (DIA), Joint Service Commendation Medal (Alaska Command), Outstanding Unit Award ribbon (with V for valor), the Vietnam Service medal with four battle stars, and the Republic of Vietnam Gallantry Cross with Palm Unit Citation for service in a combat zone.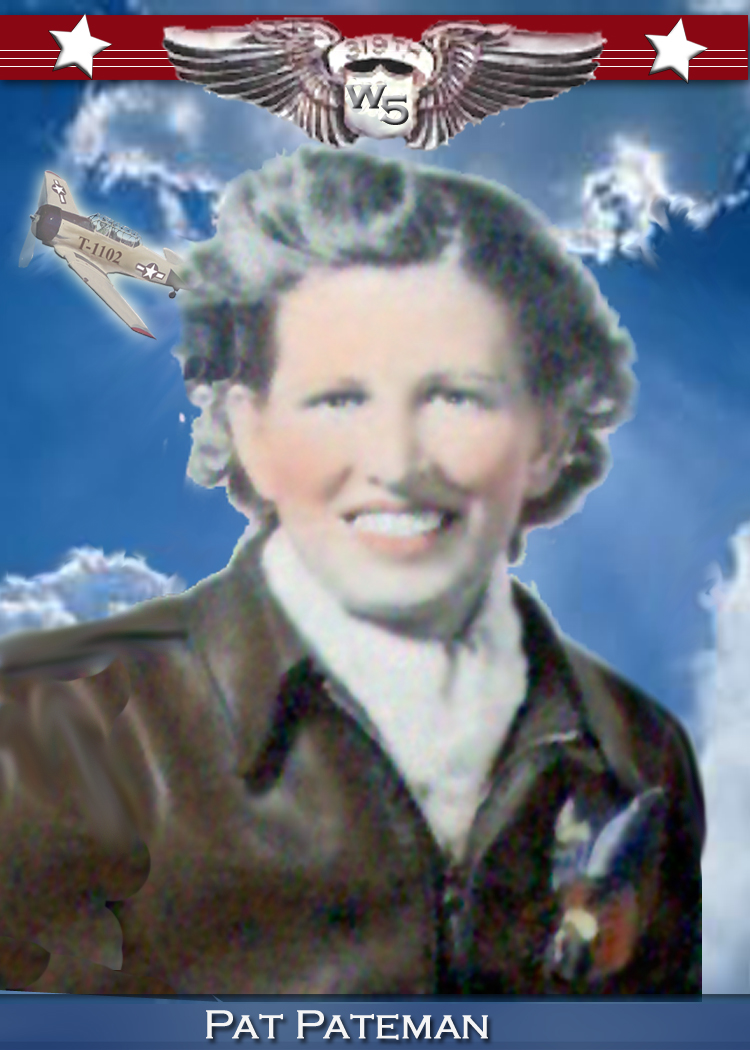 After retirement, LTCOL Pateman worked primarily to bring recognition to the public achievements of women flyers, particularly the WASP. In 1976, she helped WASP become eligible for Veteran Administration benefits by working with a committee to pass a congressional bill. She served 14 years as a Director on the Board for Women in the Military Service for America (WIMSA). This organization successfully raised money and built a memorial to all military women at the entrance of Arlington National Cemetery. She served 10 years as the WASP Chair for Military and Veterans Affairs, and was National President of the WASP WWII from 1990-1992. She became a published aviation writer who specialized in feature articles on women pioneer pilots. She was the author of a non-fiction book Women Who Dared which was the first to acknowledge women who were military test pilots from WWII to 1996. She also produced a video "We Were WASP" to provide an accurate story for use in school classrooms. Among the organizations to which she belonged are Women Overseas Service League, Veterans of Foreign Wars, Disabled American Veterans, Virginia Aeronautical Historical Society, Women Military Aviators, Reserve Officers Association, Silver Wings Fraternity, the Ninety Nines, and the National League of American Pen Women. LTCOL Pateman received many honors for her contributions and speaking engagements. Most recently, she received the 2001 Award of Achievement from the Ninety Nines, an organization founded in 1929 for the advancement of women in aviation. She was awarded the 1998 Southern California Woman Veteran of the Year and was honored as a Distinguished Alumnus of the University of Maryland. She archived her WASP memorabilia at Texas Woman's University and in the Special Collections of the US Air Force Academy library. LTCOL Pateman is survived by her life-long companion MAJ Martha N. Stanton, USAF(ret), and by fifteen nieces, five nephews, many grandnephews and grandnieces.
++++++++++++++++++++
Pat's list of accomplishments would not be complete without adding that she is an honorary member of the National Advisory Council for the National WASP WWII Museum.