Vivian G.Nemhauser (05/20/2003)
Bradford, Vt. – Vivian G. Nemhauser, 83, formerly of West Newbury, VT died Sunday (05/18/2003) at Brookside Nursing Home in Bradford.
She was born in Milwaukee on July 20, 1919, the daughter of William Penn and Florence (Gaines) Gilchrist. During World War II, she served in the Women's Air Service Pilots of the Air Force, then in the Civil Air Patrol. She was secretary to the president of Jamestown College in North Dakota. In 1976, she moved to West Newbury, where she was an administrator of the Orange East Senior Center. She was instrumental in establishing the Brookside Nursing Home in Bradford. She volunteered for hospice in Bradford and was a member of West Newbury Congregational Church, American Legion Post No. 78 in Newbury and the Women's Military Aviators Association. She was predeceased by her husband, Dr. Gustave Nemhauser, in 1975. Survivors include a son, Glenn W. Nemhauser of Cotati, Calif.; two daughters, Phyllis A. Nemhauser of Bradford and Jane V. Nemhauser of Meeker, Colo.; three grandchildren; and a great-grandson.
A calling hour will be held tomorrow from 6:30 to 7:30 at Ricker Funeral Home in Woodsville (NH). A funeral service will be held Thursday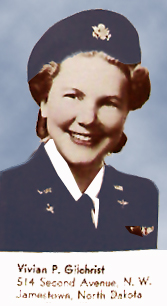 WASP Vivian Gilchrist Nemhauser, 44-W-3
who was a active Girl Scout and Girl Scout leader
(05/22/2003) at 1:30 p.m. at West Newbury Congregational Church, with the Rev. Donald Towle officiating. Burial will be held at Kensico Cemetery in Valhalla, N.Y. (05/23/2003).
Memorial contributions may be made to West Newbury Congregational Church, West Newbury, Vt. 05085.