Madge Rutherford Minton, 84, of Indianapolis died Sunday November 7th, 2004. While earning her B.A. degree at Butler University, she was one of the first four women in the United States to graduate from the Advanced Civilian Pilot Training Program authorized by the Civil Aeronautics Authority.
In 1943 she joined the newly organized Womenís Airforce Service Pilots (WASPs) and was trained to ferry Army airplanes to domestic military bases for delivery to combat flight crews. After World War II Madge remained passionate about the role of women in aviation. She was a member of The Ninety-Nines, Inc. International Organization of Women Pilots, P-51 Mustang Pilots Association, The Confederate Air Force, and the Indianapolis Aero Club. She served as a regional vice president for the P-47 Thunderbolt Pilots Association. In the 1970ís Madge took an active role in lobbying for and finally achieving recognition and veteran status for all former WASPs.

While serving in World War II, Madge and Naval Officer, Sherman A.Minton, M.D. were married on October 10, 1944 during a five day leave. After the war, they settled in Indianapolis. With the exception of four years in Pakistan (1958 - 1962), Indianapolis was the familyís home.
Madge, mother of three daughters, was a teacher, an author, a lapidary, and an amateur herpetologist. She was an accomplished collector of unique primitive artifacts, fine art, and natural rarities.

The memorial service is scheduled for Saturday , November 20, 2004, 11:00 a.m. at All Souls Unitarian Church, 5805 East 56th Street in Indianapolis.

The family requests, in lieu of flowers, contributions to: WASP Memorials, P.O. Box 456, Sweetwater, Texas 79556.

Madge is survived by her three daughters, Brooks M. de Cervantes, April M. Kiesier, and Holly S. Minton; and her grandchildren, Natasha Cervantes M.D., and Benjamin Childers.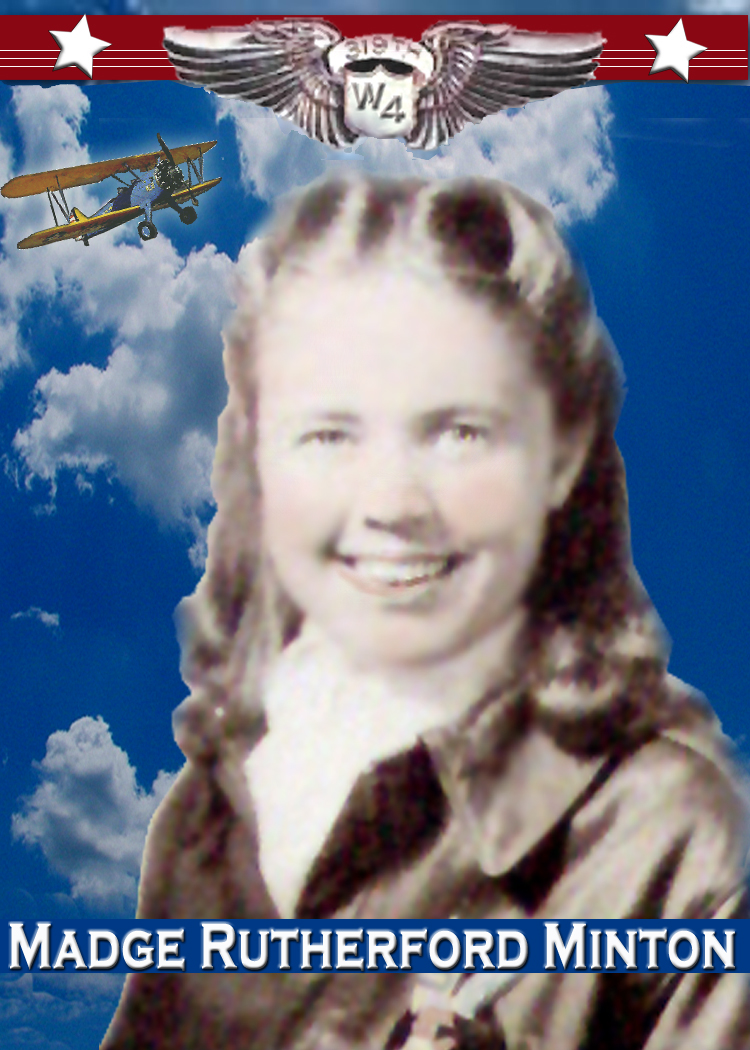 INVOCATION

For a vision in our youth, Dear Lord
We are much beholden, and with heartfelt
respect we invite Your presence here.
We come to celebrate a score of glorious months
When You blessed us with more courage than caution and more determined commitment than common sense.

Our vision was to fly, and we hardly considered
That we might fail. Eager and proud; rebellious,
Even arrogant, we defied current mores
And slipped time-hallowed traces.
Our purpose held, and with Your help we achieved
Our heartsí desire; to serve as pilots in our
Countryís cause; to fly in defense of
Freedom, truth, and human dignity.

Bless, Dear Lord, our comrades untimely dead;
Bless all who fought and all who died
In common cause with us.
We are here to share friendship to revel in past
Glories, and to marvel at our incredible luck.
Years deracinate our fellowship and time
Impedes accuracy;
Dear Lord, forgive us if our memories be gently
enhanced by selective forgetting.

We entertain conjecture of the times when, all alone,
We flew between the sun and citadels of clouds
And watched the shadow of our plane
convoy us on our course --
A dark cross rimmed in fractured light--
A holy wage -- The Pilotís Cross--
We felt Your Presence than and touched the
Interface between that which may be known
And that which can never be transcended.

You blessed us then; we pray Your blessing now.
Amen

Madge Rutherford Minton
W.A.S.P. Chaplain
1986