COCOA BEACH, Florida

Carolyn C. Miller (Thames), 86, of Cocoa Beach, FL, died Friday, October 7, 2005, at home. Carolyn was born in Perry, Florida and came to Cocoa Beach in 1950.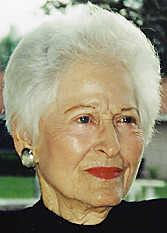 She served on the Board of Trustees at Cape Canaveral Hospital for 31 years and was active as a hospital auxiliary.

She graduated from Florida State Teachers College (FSU) and subsebuently went to Avenger Field, Sweetwater, Tx. during World War II where she earned her wings as a WASP. She was eventually stationed at Randolph AFB, San Antonio as one of 11 women certified as an Air Force multi engine instructor. She remained an active member of the WASP Organization.
For more than two decades her passion was raising and showing Yorkshire Terriers including several Champions. She was an active member of the Community Church of Cocoa Beach, the Business Improvement Council of Cocoa Beach, the Cocoa Beach Citizens Academy, a past president of the Cocoa Beach Womens Golf Association, and a Director of the Cocoa Beach Citizens League. Carolyn was preceded in death by her husbands, L. L. (Bubber) Miller and James Thames and sons, James Grimes and John Michael Thames.
She is survived by her daughter, Jacque T. Crawford and husband, Tom of Delray Beach; step-son, Larry Miller and family of Big Canoe, GA; grandsons, Jansen Thames of Cocoa Beach and Mark Crawford of Lake Placid, NY; and four great-grandchildren. Carolyn has requested no flowers, and asked that memorials be made to the Cocoa Beach Community Church, 126 South Atlantic Avenue, Cocoa Beach, FL 32931 or Hospice of Health First, 1900 Dairy Road, West Melbourne, FL 32904 or to the Humane Society of Central Brevard, 1020 Cox Road, Cocoa, FL 32926. Calling hours will be held from 5 to 7 p.m. Monday, October 10, 2005, at Beckman Williamson Funeral Home in Cocoa Beach. A Memorial Service will be held at 4 p.m. Tuesday, beside her mausoleum at Florida Memorial Gardens in Rockledge.