Mary Jane was a WASP in Class 43-W-4. She passed away on April 16, 2007. Here is her story, "IN HER OWN WORDS" from Betty Turner's "Out of the Blue and Into History:
_______________________
"I was born on April 6, 1921, in Detroit, Michigan. I got interested in flying when CPT started in 1940 while I was in college, and received my private pilot's license. I heard of the WASP program, applied and was accepted in the class of 43-3, in Houston.
I had a bad sinus infection in Houston and was grounded for a couple of weeks, hence fell behind my classmates and graduated with class 43-W-4 in Sweetwater, Texas.
After graduation, I was stationed at New Castle AFB, Dover, Delaware. After ferrying a PT-19, I suffered another bad sinus infection. I requested a transfer to a closed cockpit airplane, but request was denied, so I resigned in October 1943. I hated to resign, but I was no good sitting on the ground.
I went home to Detriot for a few days and then joined my husband in Hondo, Texas, where he was a navigator instructor. We had been married August 1943, in Brooklyn, New York, at his home church. (I met my husband in Houston, Texas, at the Rice Hotel at a tea dance. He was a cadet at Ellington AFB).
We left Hondo in the spring of 1945, heading for New York. he went to crew training in B-29's at Westover AFB, Massechusetts, and I stayed in New York to have my first baby, a son born July 16, 1945.
In 1946, we bought a house in Springfield Gardens, Long Island, New York. He joined the Air National Guard. Bill was recalled in 1951, taking us from New York to California to resume Air Force life. That was the end of our civilian life. Bill stayed active until he retired in August 1975, with 33 years in the US Air Force.
We had three children, son William, daughters Patricia and Susan. Susan was born in Japan while we were stationed there. We also have six grandchildren, three boys and three girls (two are idential twins).
Our Air Force life took us many places. We lived in California, Texas, Japan, Maine, Massachusetts, New Jersey, Omaha, Nebraska, back to California, then to Hawaii, then to Thiland for our last year. After his retirement, we bought a trailer and traveled the US for a year, visiting relatives and friends. Finally we bought a house in Roseville, California. Tired of retirement, Bill received his license in real estate.
I lost my husband in July 1989 to a cancerous brain tumor. He is buried in Arlington National Cemetery.
I have remained active in the order of the Eastern Star and Daughters of the Nile, church choir, bowling, and crafts."
(posted April 29, 2007)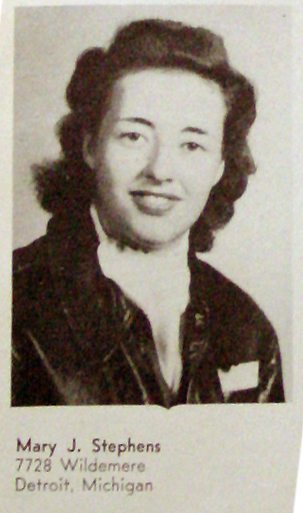 The following is reprinted from the Sacromento Bee with special thank you to WASP Captola Johnson:
Apr 6, 1921-Apr 16, 2007
Preceded in death by her husband William. Survived by her children William (Jan) Meikle of Woodbridge, Va., Pat (Ben) Braun of Cranbrook, British Columbia, and Elizabeth (Montee) of Florence, Ore.; grandchildren Michael (Amy) Meikle, Bill Meikle, Steven Meikle, Kristi (Troy) Arnestad, Robyn (Aaron) Hansen, and Becky (Gordon) McArthur; and great-grandchildren Paige, Grace and Kayla. Friends and family are invited to a memorial service at First Presbyterian Church of Roseville at 1:00 PM on Monday, April 23. Inurnment will be at Arlington National Cemetery in Virginia at a later date.
To sign the guestbook
(published by the Sacramento Bee),
click this text.