Irene was born in January 9, 1921 in Philadelphia, PA, the daughter of Dr. Roger M. and Irma Masteller Gregory. On May 1, 1945, Irene was united in marriage to Irwin "Irv" R. Lindner in Ventnor, N.J.
She graduated from Dupont High School in Wilmington, DE and the University of Delaware. While in college, she became interested in flying and entered the War Training Service flight training program earning a commercial Flight License and a Flight Inspector rating. Irene was the first woman in Delaware to have a commercial and instructor rating.
After graduation from college she want to Caribou, MA where she was a flight instructor and airport manager. After a short stay in Maine, she transferred to Las Vegas, NV and was a flight instructor. About that time, the Women Airforce Service Pilots were organized and Irene went to Sweetwater, TX and joined that group. She completed the course of instruction and was sent to the New Castle Air Base in Wilmington, DE which was a first ferrying base for the Air Transport Command. She ferried military aircraft until the group was disbanded. Of the eleven hundred women that were accepting into the Women Airforce Service Pilots, Irene was one of only 120 that were selected to ferry the fighter aircraft.
While in training to fly the fighter aircraft, Irene met Irwin Lindner and they were married in 1945.
After Irv was discharged from the service they returned to Keokuk and started Lindner Aviation and began managing the Keokuk Airport fort the city in May of 1946. Irene served as flight instructor and secretary until she retired to become a mother in 1950.
Irene was a member of the St. Paul United Church of Christ in Keokuk, the Amicus Sunday School Class and the women's Service Circle of St. Paul. She was a member of the Women Airforce Service Pilots Association, the Tri-State Flying club, Warbirds of America and the Keokuk Hospital Auxiliary.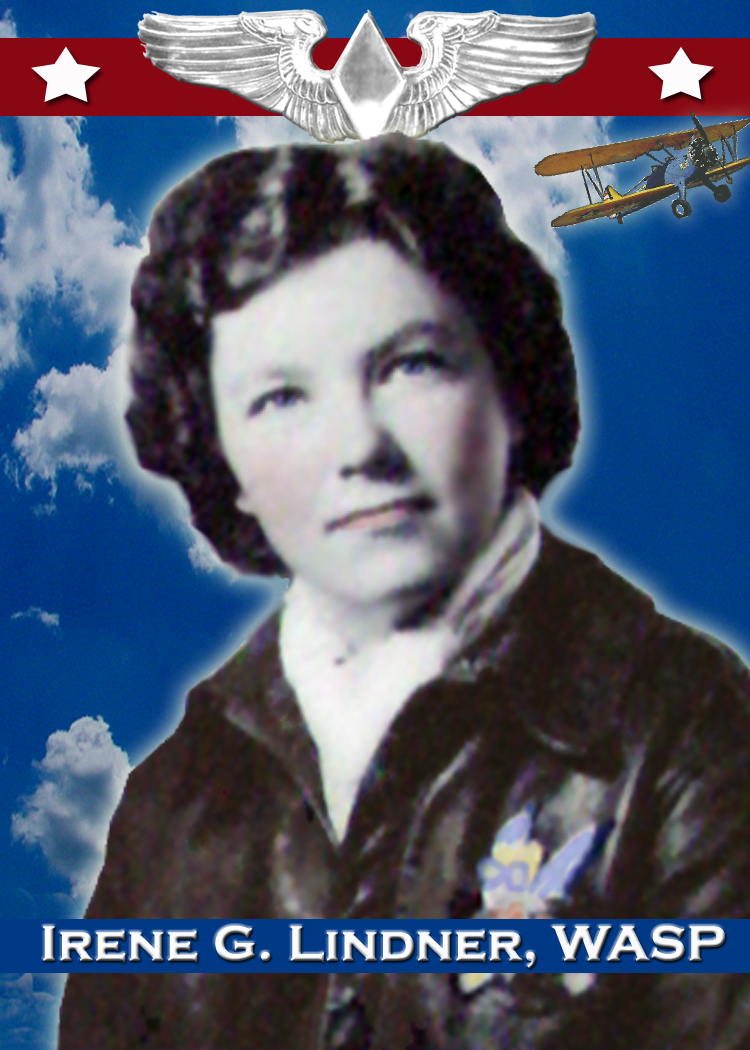 In 1974, the U.S. Government recognized the service of women during WWII and Irene received the honor of being declared a Veteran of the Army Air Corp. Irene loved spending time with her family, and anything and everything to do with flying, her church and her German Shepherd named Duke.
Irene Gregory Lindner died Monday, March 25, 2002 at the Montrose Health Center in Montrose, IA at the age of 81.
She is survived by her husband, Irv of Keokuk, one daughter, Janet Lindner Hurt of Keokuk, three grandchildren, Lindsey Elizabeth Hurt, James Lindner Hurt and Julius Irwin Hurt all of Keokuk, and numerous nieces, nephews and cousins. She was preceded in death by her parents, one brother, Roger M. Gregory, Jr., one sister, Natalie Gregory Solomon, maternal and paternal grandparents and one son, Jim Irwin Lindner.