I don't know exactly who gave them my name but I think it was Bee Haydu, who lives near West Palm Beach, because I was Region One Director when all of this started. Bee told me that they wanted to feature the WASP for their Veteran's Day celebration. I told Bee that I would work with them on it and see if we could get some of the Florida WASP to come.
I really didn't know anything about this company but I heard Kermit Weeks had them do a P-51 for him. The name of this place is the FLYING TIGERS WARBIRD RESTORATION MUSEUM. The owner is Tom Reilly .
For the uninformed, Kissimmee is now almost a suburb of Orlando. That whole area of Florida has been built up to such an extent that I can't find my way around there anymore. The Kissimmee Airport was once a B-52 base, it may be an auxiliary field for what is now Orlando International Airport. Their runways are over 10,000 feet. I guess it is operated by Orange County. It has several FOB's, some charter flights come in there and many corporate jets were parked on the ramps.
The Flying Tiger Warbird Restoration Museum
Tom Reilly has four acres which hold a very big hanger with a machine/work shop attached. He also has a one story building that houses offices and a museum of all kinds of aviation stuff--mostly WWII pictures, Warbird parts, etc. A lot of stuff for sale as well: jackets, T-shirts, post cards, books, you name it. There are a lot of "work in progress" warbirds on the ramp space and three open ended hangers that hold the four AT-6's that are flying. You taxi in the back, park the airplane and taxi out the front when you are ready to leave. One 6 is parked in the big hanger.
He seems to have a lot of different programs going on. They take people for rides in the At-6 and the B-25, they have a school for mechanics to learn how to restore the warbirds, and they have all kinds of programs like the EAA Eagles Chapter (for kids) and they also have Elderhostle programs. He must be making enough money to support this because he has a big staff, and his wife also works in the office/museum.
The woman who is in charge of the programs (and all of the PR) is KT Budde-Jones. She is the one that contacted me and I worked with. KT is about 50, has a Master's Degree in Exceptional Childhood education, has a pilots license (flies the 6) and has worked in PR for the man in Key West that did the diving for the Spanish treasure. She ran his museum and shop in Key West. Tom Reilly hired her away from them. She is a real Go Girl.
As all of this got going, I arranged for one of my "young" 50 years old friends to drive me down there - about an hour and a half drive down the Florida Turnpike. Everything was all set - but the Sunday before we were to leave on Wednesday, her mother had a heart attack in Kansas and she had to leave. That left me no way to get there.
I called KT and told her that I would have to drop out, but she would hear none of it. She called me back a day later and said that Tom Reilly was in Valdosta, GA where he was helping a man restore a P-40. He was going to drive a truck and trailer down with P-40 parts in it and would be coming down I-75, through Gainesville. He will stop and pick me up. I called his cell phone and told him I would go to the nearest exit and wait for him so he wouldn't have to drive into town - to my house. So I was all set.
The day we were to make this trip he called me and said there had been a change in plans. He was not coming in a truck, but in a new Bananza. He estimated arriving in Gainesville between 9:30 and 9:45 PM and I was to be at the airport., He also said they had trouble starting the airplane so he didn't want to shut it down. He would taxi up to the FBO terminal, I could put my bag in the luggage compartment and jump up on the wing - and off we would go -- getting into Kissimmee about 11:15 PM.
Well, Bob (Kaddy's husband) didn't think this was such a great idea. I had never met the man, didn't know anything about him then, and getting into a single engine airplane that didn't want to start, in the middle of the night - Bob thought that was really too much. But I am a great risk taker and I told him, "Not to worry. If he is flying a $300,000 airplane, he must know something about it."
Bob drove me out to the airport, and sure enough, about 9:35PM we saw an aircraft in the pattern, it landed, taxied up to the operations area, stopped, but left the engine running. We walked out,. The luggage compartment door was not locked so Bob put my bag in and helped me climb up on the wing. Tom had the door open but I had to push it against the prop wash. When I got in Tom put out his hand and said, 'I'm Tom Reilly." I took his hand and said, "And I'm Kaddy Steele." With that he taxied out and we took off - it was about 10PM
The weather was perfect, not a cloud in the sky and about a 10mph tail wind. He flew down about 5,000 feet. We didn't have time for much chatter because he was on the radio most of the time. The speaker was on so I could hear what was being said, but I didn't understand much of it. It was all about clearing from one area to the next. I can't remember the last time I was night flying in a single engine airplane. It was really very nice, I enjoyed it.
When we got to Kissimmee and landed his operation was shut down tight. Tom said, "You are going home with me.' I said, "I don't mind going to the hotel. I don't want to impose on you." He said, "You are not imposing on us. My wife said I was to bring you home. Tomorrow we can all go to the airport after breakfast."
So home we went. They have a beautiful home in a gated community. Very big, with a huge swimming pool attached to the house, and four beautiful cats--great big cats with long hair, and very friendly. I had a very nice room with a private bath, and I slept very well, until 6:30AM.
I was the first one up but we had to be at the airport by 9AM for press interviews so the Reillys got up, we stopped for breakfast at the local eatery, which I think they do every morning because Tom didn't even have to order - the waitress just brought him his breakfast.
All morning was interviews, the local TV station, two radio stations, one with a 1,300 station hookup, and several writers from publications on aviation. We went into town for lunch and when we came back it was time for the airplane rides. The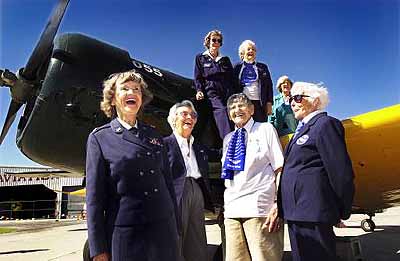 WASP who were there on Thursday included Bea Haydu, Nonnie Anderson, Shirley Cruse, Doris Hamaker, Helen Snapp and Barry Smith.



Photo-- Orlando Sentinental
KT assigned us to the airplanes. I really didn't want to ride in the B-25 because I didn't think I could get in it. You know that my knees don't bend as much as normal people and even with a stool to get up that first step of the ladder isn't easy.
Tom knew I had been to B-25 transition so he wanted me to go with them. We had Bea and Shirley and me in the first flight. He said we could draw a number to see who would sit in the cockpit. Shirley won the draw, and I was relieved because I really knew I couldn't get up that step from the lower compartment to the flight deck. But on the way out to the airplane Shirley said, "You sit up there. I have never been in the B-25 and I don't want to try flying it now." Tom heard her say that and agreed that I should come up on the flight deck.
We had an instructor pilot with us when we took off. The three of us WASP were in the lower compartment on take off. After they got about 3,000 ft. and leveled off the instructor pilot got out of the left seat and came back to where we were. Tom told me to come on up. I said, "Aren't you going to sit in the left seat?" He said, "No, you are." So with a little push from the rear I finally got my legs untangled and got in the left seat. I put the head set on, after taking off both of my hearing aides, and Tom said, "You've got it."
I really wanted to change my seat because I was sitting too low but I didn't say anything because I thought I wouldn't be there very long. I made a few turns and then Tom told me to turn sharp to the right so the four AT-6's could form up on us and fly formation with the 25 leading. I made a steep turn, leveled out and tried to fly straight and level, but I kept climbing because the horizon was difficult for me to see and I couldn't read the climb indicator.
After one pass across the field Tom said to go out for a traffic pattern because we were going to land. I said, 'OK, you can have it." He said, "No. You are going to land it.' I said, "Are you out of your mind? I haven't been in one of these for almost 60 years!!! I can't land it!" "Yes you can. I'll talk you through it. Get it lined up with the runway, keep the wings level, and I will handle the throttles so you can have both hands on the wheel. After we touch down, hold the nose wheel off until I tell you to let it down slowly -- and stay off the brakes. We've got over 10,000 ft. of runway.'
And that is what we did. Tom put down about 20 degree of flaps, he slowed it down but I did the flare out, didn't use the trim tab, had both hands on the wheel, held the nose wheel up until he told me to slowly let it come down. Tom said it was a good landing. no bounce. But my hands were all sweaty when we got ready to get out of the airplane.
It was thrilling, I must admit, and Tom told every one that I made the landing. Bea and Shirley said they would give me a signed statement that it really happened.
On Saturday I had a ride in an AT-6. I enjoyed it, but it was an anticlimax after the B-25.
That B-25 ride really made my day.