Pioneer WASP pilot, former airline board member dies
By Staff Reports
10/6/2004


Mary (Regalbuto) Jones, a pioneer female pilot and the first woman to serve on American Airlines' Board of Directors, died Saturday. She was 81.

A funeral Mass is scheduled for 10 a.m. Wednesday at the Church of the Madalene under the direction of Fitzgerald's Southwood Colonial Funeral Home.

Jones was born Nov. 16, 1922, in Cleveland, Ohio, to Carmela and Philip Regalbuto. She graduated from high school in 1941 and soon began studying for her pilot's license.

In 1943, she enlisted in the Women Airforce Service Pilots -- or WASP -- training program. She earned her wings the next year and was sent to the Waco Army Air Field in Waco, Texas, where she was an engineering test pilot.

She married Erwin Jones in 1946 and began working in administrative, personnel and program management positions for the Federal Government.

She was elected in 1974 to serve on the American Airlines Board of Directors, the first woman to do so.

During her 33 years in Federal service, Jones received many awards and honors, including a letter of commendation from President Reagan.

She retired in 1981 and moved to Tulsa to enroll at Spartan School of Aeronautics, where she revalidated her pilot's license and became a sport and antique aviation enthusiast.

She owned and flew a 1941 Navy N3N-3 biplane trainer for 14 years.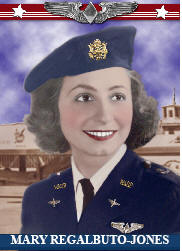 ---
From the Wings Across America interview with Mary, her message to the next generation: "
"Aim high, stay the course, be true to yourself."

---
Jones founded the First National Biplane Fly-In in Bartlesville in 1987, and she was awarded a Bachelor's Degree in Aviation Science from Oklahoma State University in 1997.

Jones and other WASP members were inducted into

the Oklahoma Air & Space Museum's Aviation Hall of Fame in 2002. (click to see Mary accepting on behalf of all the WASP==the Oklahoma Aviation Hall of Fame, 2002)

She also was a recipient of the Clarence E. Page Memorial Trophy for outstanding contributions to Oklahoma aviation.

Jones is survived by two brothers, Santo Regalbuto of Ontario, Calif., and John Regalbuto of Georgetown, Mass.; and a sister, Angela Mariani of Cleveland, Ohio.

Friends are contributing to the Women Airforce Service Pilot Endowment Fund and Texas Woman's University in Denton, Texas.
---
---
To post a memory or share a story about Mary: http://www.waspwwii.org/readyroom/viewforum.php?f=