July 4, 2003 Aleta M. Johnson, 85, of Clay, died Friday at St. Joseph's Hospital. She was a native of Jackson, MI, and a resident from 1954 to 1993 of New Jersey until moving to Clay. She graduated from Eastern Michigan University at Upsalanti in 1939. A veteran of WWII, Mrs. Johnson flew B-25's with Women's Airforce Service Pilots (WASP). Of 25,000 applicants to the WASP organization, 1,830 were accepted and 1,074 won their wings. She also belonged to the Central New York Chapter of the 99's. She belonged to many quilting guilds here and in New Jersey and was a member of the Plank Road Quilters.
Mrs. Johnson retired in 1984 after 20 years of teaching, Physical Education at Jackson Michigan High School and sixth grade in Pemberton Township School District, New Jersey. Mrs. Johnson is survived by four daughters; Signe M. Johnson of Hamilton, NJ, Lynne A. Johnson of Yorkeville, IL, Ingrid S. Johnson of NY, NY and Allentown, NJ, Marta J. Kirby of Clay, NY and seven grandchildren.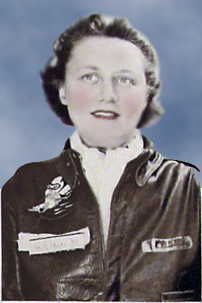 Services will be Monday, July 7 at 8 p.m. at Fergerson Funeral Home, 215 South Main Street, North Syracuse. Family will greet friends from 6 to 8 p.m. Monday at the funeral home. Burial will be in Roseland Memorial Gardens Cemetery, Jackson, Michigan. Donations may be made to the WASP Endowment, Texas Women's University, c/o Dawn Letson, PO Box 23715, Denton, Texas 76204-1715.