Jean Taylor Howard recently passed away from complications associated with her fight with cancer. She was, I She was born in Hibbing, Minnesota on April 3, 1916 and is survived by her loving husband of 5 days short of what would have been their 58th Anniversary; and her two sons, John Taylor Howard (55) and Philip Leslie Howard (54).
Her obituary in The Seattle Times reads:
Jean Taylor Howard died January 31st at her home in Seattle after a long struggle with cancer.
She was born April 3, 1916 in Hibbing, Minnesota, daughter of Francis and William Taylor. Jean graduated from Hibbing High School and from the University of Michigan of Interior Design. She was a member of Delta Gamma Sorority. After working in design studios in Minneapolis, she had the opportunity to take flying lessons, which completely changed her life. She was recruited by the Women AirForce Service Pilots (WASP) and spent a year and a half ferrying planes for the Army in the United States. The WASP disbanded in 1944 and Jean returned to Hibbing. In 1946 Jean and her mother and a close friend drove west to Seattle to visit relatives. Jean remained in Seattle and became the social secretary for the Rainier Club where she met her husband to be, Bill Howard. After spending many happy hours together, they became engaged in 1948 and were married in Hibbing on February 5, 1949. They have two sons, John Taylor Howard and Philip Leslie Howard.
Jean has been a member of the Epiphany Alter Guild, Elizabeth Fisher Orthopedic Guild, Seattle Tennis Club, Seattle Golf Club, Meridian Valley Country Club, Desert island Golf Club in rancho Mirage, the Broadmoor Golf Club and the Sunset Club. Jean enjoyed golf, tennis, fishing, skiing, and traveling around the world and enjoying every opportunity to play bridge with her friends. She was dedicated to her family. Jean is survived by her husband, Bill and her sons John and his wife, Marcia and Philip.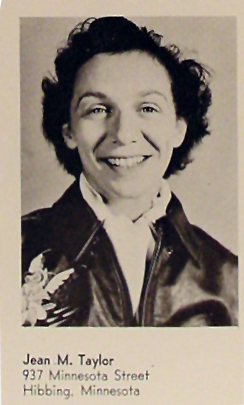 ---
A memorial service will be held on Friday, March 9th at 3:00pm at Epiphany Parish in Seattle with a reception to follow.
Remembrances can be sent to the Children's Orthopedic Hospital Foundation.
She will be dearly missed by her family and friends. She lead a full life and was a good wife and wonderful mother.