Margaret Garland, a former chair of the state Environmental Board, environmentalist, civil libertarian, and aviation pioneer died Thursday. She was 81.
She had been living at the Wake Robin retirement home before her death. Through the 1970s and early 1980s Garland served as a member of the Vermont Environmental Board and chaired the board on two separate occasions. She also was a land use planner, a former president of the Vermont Lung Association and a member of the League of Women Voters.
During World War II, Garland was a pilot in the Women's Airforce Service Pilots program. It was a groundbreaking program that allowed women to fly military aircraft in the United States, freeing men to fly overseas. Garland moved to Vermont in the 1960s and built a strong public service resume. She began her service with the Environmental Board in the early 1970s and helped lay the groundwork for Vermont's method of managing its natural resources.
In 1980 she ran for lieutenant governor as a Republican and lost to Madeleine Kunin, who later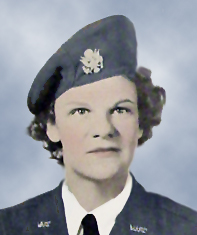 Wing Commander of WASP Class 44-7, Margaret Parish (Garland) entered WASP training from Raleigh, North Carolina
went on to be elected the state's first female governor. She also served on a number of other commissions and boards. Garland is survived by a sister, two sons and three grandchildren.
Funeral services will be private.
Message from Sara P. Hayden. "May her soul rest in peace."