Ruth Underwood Florey
WASP 43-W-4
Ruth passed away on Saturday, April 28, 2007 at her home in Odessa, Texas.
We print this tribute to our friend, Ruth, who placed her handprints in cement at the National WASP WWII Museum on May 27, 2005.
____________________________
A native Texan, Ruth was born in Brownwood. While she was attending Daniel Baker College in Brownwood, she took advantage of a government sponsored Civilian Pilot Training program and earned her private pilot's license. She learned about the flying training program for women pilots at Sweetwater, met all the entrance requirements. was accepted and spent the hot summer months of '43 in training at Avenger Field.
After graduation, she reported to Camp Davis AAF, N.C., an anti-aircraft artillery school. Ruth flew A-24s and A-25s, towing targets for live 90mm guns; flying night target towing; radar deception missions (dropping aluminum foil chaff) and low altitude missions for anti-aircraft tracking guns. She was transferred to Liberty Field near Camp Stewart, Ga., spending 90 days being instructed and practicing in piloting radio-controlled aircraft. After finishing that course, she was sent to Biggs Army Air Field, Tx., where she flew B-34s and B-26s in night searchlight missions, tracking missions for training anti-aircraft crews; radar tracking missions to train radio operators; radio controlled target flying, low altitude night missions and laying smoke screens.
When the WASP were disbanded, Ruth married her long-time friend, Ben Castleman Florey, a Skipper in the Navy. This great-grandmother is a volunteer with the Commemorative Air Force (CAF) in Midland/Odessa. She had also been an active volunteer with the American Red Cross and Meals on Wheels.
She was a member of the Women Military Aviators, Inc., West Texas Wing of the Commemorative Air Force, the Women's Golf Assoc. of the Odessa Country Club and the National WASP WWII Museum.
She is survived by two sons, Ben Castleman Florey, Jr. of Austin, TX, and Joe Neal Florey of Odessa, TX; two daughters, Frances Helen Bessire of Lubbock, TX and Laura Elizabeth Morrow of Midland, TX; two brothers, James Neal Thomason of Brenham, TX and John Arthur Thomason of Brownwood, TX; sister, Jaunita "Tissie" Roach of Hamilton, TX; eleven grandchildren; and nine great-grandchildren.

_______________________________
A service for Ruth will be held at 11:00 AM on Tuesday, May 1, 2007 at St Barnabas Episcopal Church, 4141 Tanglewood, Odessa, Texas.
There will be a graveside ceremony at 1:00pm, Sunset Memorial Gardens in Odessa, with a special CAF Flyover in memory of Ruth.
________________________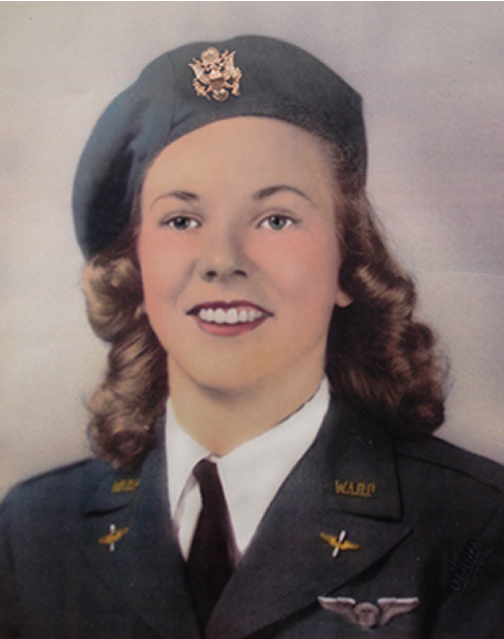 ____________________________
Ruth Florey was the first WASP I ever met who I was a bit 'overwhelmed by,' to say the least. Her eyes twinkled, but it wasn't until she actually broke out into an easy laugh that I knew she was going to be a wonderful and special friend. She was.
Ruth was not one to brag on her own accomplishments--her stories were short and to the point, just as her remarks are on the video--below. This video captures a happy moment in time--just a moment in the extraordinary life of Ruth Florey, whose advice to the generations to come is to "start with prayer."
This is a special ceremony, inducting Ruth into the Texas Aviation Hall of Fame. She had not been able to attend the dinner in November of 2004, so, with the help of the CAF, we created this special ceremony to honor her. What an honor it was, for all of us.
Nancy Parrish, Director
Wings Across America