Toby Phyllis Sally Tobias Felker was born in Detroit, Michigan on April 8, 1920. She began flying with Roscoe Turner Aviation in Indianapolis, Indiana under the Department of Commerce, Civilian Pilot Training Program at Indiana University, Bloomington Campus, in February 1941.
In the fall of 1942, she was in Columbia, Missouri, writing scripts for the public relations division of Stephens College when she learned of Jacqueline Cochran's Sweetwater, Texas, training operation in conjunction with the 318th AAFTD. As Toby later wrote in Betty Turner's OUT OF THE BLUE AND INTO HISTORY, "I was quick to maneuver my way into that deal!"
Toby entered WAAFTD, Avenger Field, Sweetwater, Texas, September 6, 1943 as a member of Class 44-2. After graduation, she was stationed with the 2nd Ferrying Group, Newcastle Army Air Base, Wilmington, Delaware, ferrying PT-19's. Her next duty station was Fairfax Field, Kansas City, Kansas, where she checked out as first pilot on the UC-78, DC-3 and B-25, flying ferry missions in the B-25 as co-pilot only. Her finally WASP duty station was Peterson Field, Colorado Springs, Colorado, where she flew as Administrative Pilot and checked out as co-pilot in the Douglas Dauntless A-24.
She met her husband, Alex, in the service. After deactivation, Toby returned to her legal secretary job. The Felker's had 3 children: Lexie, Sally and Frank, and opened an independent copy shop in February of 1974.
---
Her parents gave her $40 to attend the civilian pilot training program at Indiana University because only women with pilot licenses were accepted in the WASPs.
"The fondest memory I have is having Gen. Arnold pin on our wings," Felker said. "He tried to get to all of the graduations. Gen. Henry H. "Hap" Arnold, the only air commander ever to attain five-star rank, was commander of the Army Air Forces in World War II.
"All the women who were in the service then did it for patriotism," she noted. "We were lucky, because we loved to fly."
(REPRINTED FROM THE DEPARTMENT OF DEFENSE LINK)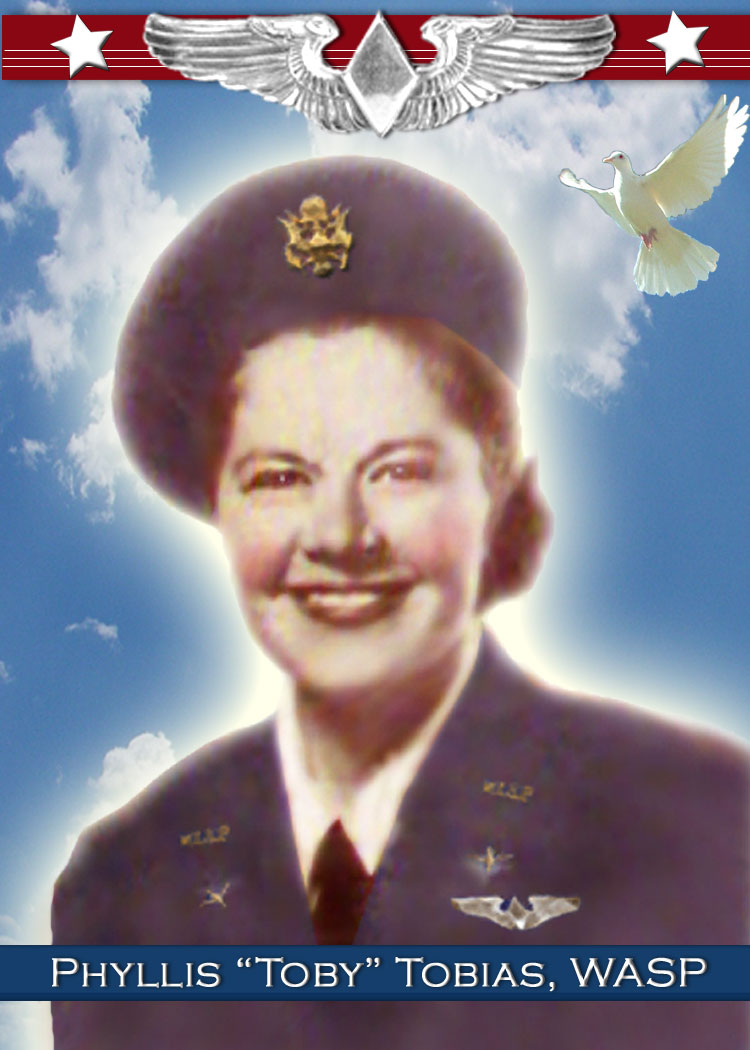 roll over picture for extra picture
On March 28, 2003, Toby was honored at an event at the Women's Memorial (WIMSA) in Washington, DC. The following paragraphs are from an interview done by the American Forces Press Service.
Toby Felker, 83, a native of Detroit who now lives in Springfield, Va., was thrilled to be at the Women's Memorial with several of her old friends. She said, "It's so good that so many of us are here together again. Every two years we have a reunion, but some of us don't travel well. This is something we all wanted to come to see, everybody. Boy, we look younger every time."
Felker's interest in aviation was sparked by a chance meeting with Army Brig. Gen. William "Billy" Mitchell, an aviation pioneer and air power advocate and crusader.
"My father changed a tire for a young man a long time ago in Detroit, and it turned out to be Billy Mitchell," said Felker, who joined the WASPs in September 1943. "While they were talking, Billy Mitchell really sold my father on aircraft. From then on, we went to all the little air shows around Detroit. It was perfectly all right with my mother and father that I wanted to join the WASPs."