We have lost a special life...

Mary Jane Isham Ehrman

Born September 30, 1919, in Redlands, California. Died November 23, 2003. Age: 84 years.

Survivors include her husband, Peter, and her four children: Terry Ehrman, Scott Ehrman, Wendy Ehrman Marshall, and Megan Ehrman Young.

Mary Jane attended primary and secondary schools in Redlands, then graduated from Stanford University with the class of 1942. She then went to work for United Air Lines, followed by a stint as a Women Air Force Service Pilot. This was, in turn, followed by a short period as a civilian flight instructor.

In 1945, she married Peter Ehrman, and they moved to Dos Palos, California in 1949. Mary Jane was an accomplished cook, gardener, pianist, and water colorist. These accomplishments paled when compared to her human abilities as woman, wife, and mother, and her intelligent, pleasant attitude toward life.

During her Dos Palos period, she was involved in may areas outside the home, including garden club and hospital affairs. Backpacking in the Sierras plus several walking trips in the United States and Europe also kept her active.

Mary Jane's favorite charity was the Dos Palos Hospital Assistance League at Box 123, Dos Palos, CA 93620.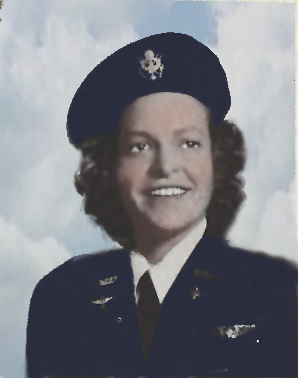 Mary Jane Isham, WASP Classbook

A memorial service is planned for December 6, 2003, at the Whitehurst Funeral Chapel, 2350 Blossom Street, Dos Palos. The service will begin at 11:00am