Lake Charles, LA: Annelle Henderson Bulechek, 83, died Jan. 4, 2004, in a local hospital.
Born in Amarillo, Texas, Mrs. Bulechek grew up in Lake Charles and moved to Shreveport in 1968, where she resided until she returned to Lake Charles in 2001. She was a 1936 graduate of Lake Charles High School. She was a member of The Ninety-Nines Inc., an international organization of women pilots, and she flew during World War II as a member of the Women Air Service Pilots. She was a member of W.B. Williamson Post 1 and the U.S. Golf Association, and she served on the mayor's Armed Forces Commission. She was an avid golfer, winning numerous awards for her skill. Mrs. Bulechek marketed advertising for Mullers, Love's, The Fashion and the Flower Shop.
She is survived by her husband of 59 years, Russell Robert Bulechek of Lake Charles; one daughter, Mrs. Ed (Barbara) Reiser of Lake Charles; one granddaughter, Rebecca "Becky" Ann Reiser of Nashville, Tenn.; and one grandson, Robert Russell Reiser of Lake Charles. Mrs. Bulechek was preceded in death by her father, James Lester Henderson; mother, Pearl Dees Henderson; brother, James D. Henderson; and sister, Margaret Henderson Scott.
At the deceased's request, there will be no funeral or memorial services. Her remains will be donated to the LSU School of Medicine in New Orleans.
Memorial donations may be made to Wings Across America, Baylor University, P.O. Box 97160, Waco, TX 76798-7160, or to the charity of one's choice.
reprinted from the Lake Charles American Press
---
An added note from Nancy & Deanie Parrish:
It was our honor to spend a day with Annelle and her daughter, Barbara in August, 2000. What a bright, witty and extraordinary woman. Of all the interviews we have done, we laughed more as our tears fell than any other interview we have done. No obituary could describe half the wonderful things about her. So, please allow us to share a few quotes from Annelle. This is how we will always remember her:
---
At age 80, Annelle was playing in a foursome with 3 lady golf champions and wanted to relieve some of the tension: "God gave me my pick. I could either be a champion golfer...or I could be an 80 year old sex symbol and I made my choice." from then on they would say, here comes the 80 year old sex symbol. On her championship trophy, it reads "Shreveport's Super Senior, Sex Symbol 2000 Big S Championship"
---
About Officer's Training School: "—the advanced Officers Training Course—training school in Orlando, Florida, which was the glamour base of the world. It was gorgeous, and we had all the foreign officers, all the free French, all the British officers were there for all this advanced administrative hush-hush training—radar secret training. Everything was secret, secret. And the Australians. We had them everywhere—Russians, everybody was there. And I just was so thrilled I was picked to go down to this school. And I got down there and nobody knew what you were, of course, you were back to, 'What are you-- a flight nurse?' 'No, I'm a pilot'. Anyway, first thing I did was meet this darling little British Intelligence Officer. He had a little mustache, and he was a 'cutie'. He said, 'Oh, a WASP?' I said, 'Yes'. And so he said, 'Well, can I take you to dinner?' So we went into the officers' mess, and we were sitting there with all these different nationalities...and I was in my little uniform, and I was just adorable. Of course, we were all adorable at 23 years old, but I was especially adorable that day. And I was also especially capable. And we sat around the table, and they wanted to know what I did. And I told them. And I said, (actually, I exaggerated. There's just no getting away from it because when I ended up with my story, it sounded like I had my life in my hands, four to eight hours every day, you know, just fighting the war. It was very, very exciting.) And this officer kept punching me a little.
Down at the end of the table was the worst looking woman I've ever seen in green fatigues. She had a bowl haircut—just like this. No make-up. Awful looking thing--just beating herself like this—by herself down at the other end of the table. And I got cuter by the minute by comparison. My story got a little louder, by comparison. And finally she got up, and she walked out. And I said, 'Who in the world was the 'slob' at the other end of the table?' And they said, 'That was Olga (whatever her name was I can't pronounce). She was the Russian 'ace' that had seven German planes to her credit. And I said, 'Oh h___, I hope she doesn't speak English'. That was the only thing I could think of to say. But here I am, and she has German (they were fighter pilots, you know), seven German planes to her credit. So that is my most embarrassing moment of my lifetime. That's where I really made an 'ass' of myself. OK. That was Officers' Training School. "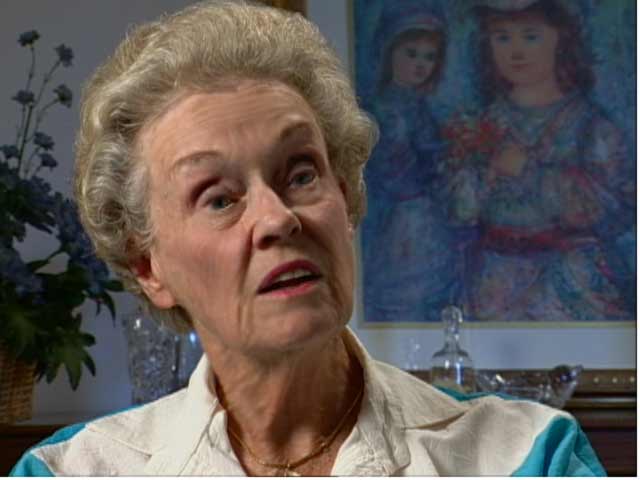 ANNELLE on video, August 2002
What will your legacy be: "I hope they'll say she was a tough old girl."
As you look back over your life, what is the one thing that you are most proud of?
My daughter. My grandchildren. That sounds trite, but now I see that's what's important. I was proud of having served my country. I'm proud of having a successful marriage for fifty-six years, but when I look at it now, I always live in the present and the future. I can't live in the past. And I think what I'm most proud of is my daughter and my grandchildren and my son-in-law. That's all the family I have left. And I think that's my accomplishment, my greatest accomplishment.
Besides your family, what have you done that you're most proud of? "I hope I've made a lot of people happy and I hope I've made a lot of people laugh. I'm proud of my service in the WASP but I'm proud I have a lot of friends. I think I've made a lot of people happy and I know I've made a lot of people laugh and I think that's a successful life"
What would you say to kids 25 years from now: "We've got to get back to where we care about each other. Everybody's too interested in themselves now and their own tidy little lives and we've got to get back to where we care about each other.
Why didn't you resign when you married (in December of 1944) "Oh I was staying till the bitter end. I'm not a quitter. They're gonna throw me out. I'm not resigning from anything!
---
...I just hope that they don't change the heart of America. And I don't know how else to say it, because there's going to be many changes in the next twenty or thirty years, but I hope the heart of America stays the same, or gets better. Gosh, it was good in my day. We all hung together, and everybody was for everybody else. And everybody's too interested in themselves now and their own tidy little lives (small lives), and we've got to get back to where we care about each other. And I hope it improves in the next twenty to thirty…I'm looking forward to the next twenty, thirty years to see an improvement in heart. That's what won't change if you keep it good-- it'll stay good. There ain't no new wheels to put on that, or new wings. That's about it.
________________
"

They said we couldn't do it. We did it, and we did it successfully. And by records, Hap Arnold's own account, we did it as well as any man could have done it. And I think that's the…I think that's the legacy that we should leave behind us—that laws and lawsuits and everything else doesn't make you what you are. It's what you want to be and what you go ahead and do that counts."
---
and finally -- her quote that we have used on our opening web page :
"You don't need legislation to prove something. You can be whatever you set your heart and head to be, and don't let anybody tell you can't be, because 1078 women pilots did it in World War II."
---