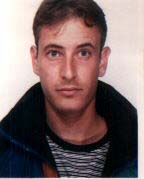 And here's Steve..
as he appears in his passport photo.
Want to know more about Steve?
I'll let him tell you.
I am 23 years old and I just graduated from the University of Southern California with a BA in Cinema/Television. My goal is to break into the post-production end of the spectrum of the film industry. Post-production involves, editing and doing sound work, and special effects, to name a few.
I have always been fascinated with European history and have always wanted to see the sites, which is what I am doing currently. I have been traveling through Europe since mid July and have been working in London as a temporary data analyst, for a company called Computasoft a little more than a month now. To come in fresh off the boat, so to speak, it is a really good job and will enable me to continue my travels again starting around new years for several months.
I am originally from Belmont, California located in the San Francisco Bay Area, where I grew up, until I moved to go to school in Los Angeles at the University of Southern California (USC) in 1994. I started off as a mechanical engineer, because I was always building models, or tinkering with my car in the search for more speed and performance. Lost interest in engineering rapidly and feel in love with film, particularly picture editing, which is what I would like to do as my career, with sound work barking at its heels in a close second.
My interest in airplanes has always been with me since I was small. I have always been a fan of aviation and aviation history and it has simply grown with me. There is just something about it that draws me to it. Maybe it is the nostalgia or the things you can only do in a plane, the sheer rush you get when you zoom down the runway at the airport with your head in the 'full up-right position' pressed firm against the head rest, or something else.
As I got older, I began to construct remote control airplanes and gliders, which really do fly. Some of the most pleasant afternoons have been when I would go to the cliffs at the Pacific Palisades near Santa Monica and fly my glider for a few hours. Simply relaxing, since it is set against the Pacific Ocean.
Two summers ago I worked with Supermarine, at the Santa Monica airport, my title was line service, where I fueled and guided planes and small jets. Occasionally, I had the pleasure of fueling a P-51, a Stearman, or a P-47, as there was a museum right next to us. I would always dart out of the office to make sure I was the first to greet those majestic birds.
After I am conclude my 7-9 month European vacation I plan to go back to California and hang out for a short while before I have to join up with 'the real world' and get a job. No matter where I go I am sure there will be a plane of some sorts not too far. I've always had my head in the clouds and have done more than okay for myself so why stop now? It works.