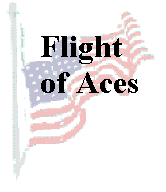 On Labor Day, 1998, the winning author and her subject for the 'Flight of Aces' essay contest were given a ride on a restored B-17. One of the winners was one of our favorite WASP friends and writer, Julia Lauria-Blum

Julia and her WASP 'hero' did go for a ride in a B-17. Below is an email I received from her two days later. (Click on pictures to see them larger.)







"I can honestly say that this past Saturday was probably one of the happiest, gratifying days of my life. I picked up Margaret (Peg) Kocher at her home before the sun rose and when it did rise, it revealed one of the clearest, most gorgeous blue skies I've ever seen over the Island (and fair winds, too).

On a scale of 1 to 10, the weather was a 20! We approached Republic Airport and Mrs. Kocher said "I don't know how you managed to arrange this weather!" I put my palms together, fingers pointing up, and replied "I did alot of this!"

She had just returned from a trip to Alaska the weekend before and didn't know anything about the contest or essay until I asked her to join me the Monday before. She could not make it to the Friday morning flight (when most of the media was there) but I was delighted she could make it at all, on such short notice. She told me that she had been interviewed over the phone about the upcoming flight by a radio station, but since she is hard of hearing and getting over a cold, it was difficult.

Anyhow, Peg put on her 50+ year old zoot suit, over her Santiago blue pantsuit and while we "hurried up and waited", outside the terminal, we were interviewed by the local paper. The PR coordinator for the "Flight of Aces Contest" was

there and the crew of the 533 Squadron, Allied Heritage group of NY dressed in WWII uniform as well. A small entourage of my family and friends were there and many other spectators. There were two other essay contest winners flying that morning and anybody else who wanted a flight would contribute $350 to the Collings Foundation.
I introduced Peg Kocher to a "Rosie" acquaintance of mine that used to rivet P-47's at Republic (she had flown the day before) and that was kind of a nice moment. When it was time to have some photos taken, a vintage

1940's automobile came out to escort Peg out to the B-17. (She said that she could walk, but was told by the PR director that she was the guest of honor that weekend).
After several photos, we finally boarded the plane and buckled up while sitting against some cushions on the floor of the fuselage. Once we were

airborne, we had free run to get up and move around. We took full advantage of every view but the nicest was from the nose gunners window. (Peg Kocher had no problem crawling on all fours under the cockpit to get to it). We flew over the south shore of Long Island and it made me realize how beautiful my home is. (I never could really appreciate from a commercial jetliner). It was noisy but it all became background in no time. The flight was great and the landing smooth, a wonderful and unforgettable experience!
Having Margaret Kocher there was what made it for me."

**********
If you would like to read Julia's winning essay, please CLICK HERE!
If you would like to contact the author

and tell her what you think of her article, PLEASE DO!
VETERAN'S DAY
Ethel Finley, Women Airforce Service Pilot, Class 43-5








A few weeks ago I was invited to write a reflection on my thouhts of Veterans Day. When I was growing up on a farm in Minnesota, we had a friend who had been a soldier in the Great War. He got out his uniform and joined a few men and went to put flags and wreaths in the cemetery. It was Armistice Day; the day Peace was declared between Germany and the Allied Forces.
Following WWII November 11 was recognized in the United States as a day of tribute to Veterans and the dead resulting form conflict. 1954 after the Korean War, the day was officially designated Veterans Day.
But I keep going back to "In 1919 President Woodrow Wilson proclaimed November 11 as Armistice Day to remind Americans of the tradgeies of war". Everyone is victim in some way of the tradegies of war. Everyone who participated in the war effort in some way is a veteran. The WASP took part as civil Service employees and it did not change what we did when received Veteran's Status by an act of Congress 35 years after the fact.
SO LET US ALL CELEBRATE PEACE ON THIS ARMISTICE/VETERANS DAY!!!








FOR MORE INFORMATION ON VETERAN'S DAY PLEASE VISIT

Dear Nancy Parrish,
My name is Bill Boushelle and I am the Public Affairs person for the 4453rd Combat Crew Training Wing ( http://www.4453cctw.org/ ). It is with great enthusiasm that we announce that your site is being awarded our Freedom Award.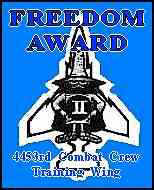 We have enjoyed viewing " WASP on the Web " and have learned much from it. We owe a tremendous debt to the women who came to the aid of our country! Their devotion to country, freedom, esprit de corps, bravery, and sacrifices are incredible. We would be pleased if you would accept the Freedom Award from the members of the 4453rd Combat Crew Training Wing web site and also link to our site. Most importantly, we want to say THANK YOU to all of the women who served as WASP's and to you for creating such an informative web site to educate us all.
Best Wishes !
Tom Pirtle, Buck Seibert, Bill Boushelle
WWW Page Staff
4453rd Combat Crew Training Wing
What a nice way to say Happy Veteran's Day to a group of very special vets!
WASPs Set New High
in Air Safety...
(reprinted from The Avenger,
Friday, Jan 21, 1944)
According to the New York Herald-Tribune, the WASPs have set a new high in air safety records, -- even in an Air force famed for the safest flying record in the world.

In over 3,000,000 miles of flying , says the Tribune, the WASPs have proved careful, diligent pilots, and their accident curve continues to turn downward.
The U.S. Air Force,. as a whole, has had fewer accidents during the last year in proportion of the total amount of flying than at any previous time in its history.


NEWS
I am not one to toot any kind of horn...but I do want to shout about the WASP and about the tremendous response the WASP on the WEB site has been receiving. Since going online at our original web address in June of 1996 (with

very few pages) we have had over 15,000 visitors from 80 different countries. This September's numbers reached 1,688 and last month, we climbed to 1,878. People all over the world are interested in the WASP!
Requests by elementary teachers and students, college students, and scholars across the United States continue to crowd our mailbox. The WASP who have consented to let their emails be a part of our 'contacts' page have been emailed questions and thank yous from teachers and students alike.

Tell your friends...tell your family...call a few history teachers! Pass it ON!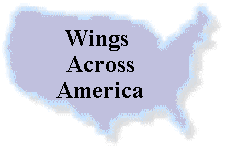 Update...this month we are still hearing from the WASP and the PBS stations. Responses have been enthusiastic and encouraging. We're looking forward to beginning the interviews after the first of the year.
STILL LOOKING FOR A FEW GOOD SPONSORS! On this Veteran's Day, if you know of a company that believes in supporting a project that will preserve the WASP contribution to the allied victory in WWII, please, let us know!
If you'd like to know more about Wings Across America, check out the website!
...a few thoughts by Steve Mintz
Last night after work I went to see "Saving Private Ryan." I was completely numb and moved at the end and found myself thinking more of the movie, the history, bloodshed, tears, and victory it symbolizes rather than my work today. I figured you would be the best person to write or talk to since obviously you have a soft spot for WWII history as I do.
As I have been thinking of the movie, I have found a new sense of appreciation for what was done in WWII. Perhaps more importantly why we have Veterans Day. Seems like my generation, who is very removed from the past it seems, dismiss the past frequently, with the excuse of it happened a long time ago and lets move on and forget about. Nothing wrong with moving on but how could one forget it? I find it very troublesome that many people my age have little idea of what went on. Not just over the sacrifices made in WWII but in all the wars. I am sure a lot of people would turn over in their graves and the others would be infuriated by this attitude. I guess being in Europe has also given me a different perspective as well.
I found Saving Private Ryan to be a very honest film that did not glorify war but rather showed it for the ugly monster it is and what it can do to people. I was moved by it more than any other movie—even Schindler's List. I now have a greater appreciation for what was done and an understanding as well.

Just wanted to share my thoughts and feelings with you on the matter as I have been thinking about it all day.
(Steve has been been working in Europe.)
Reprinted from FROM The Avenger May 11, 1943

Field Has First All-Women Military Flying School in World
by Mary A. Bowles
As the only school in the world completely devoted to the training of women pilots in advanced military flying, the 318th A.A.F.F.T.D. at Avenger Field is under constant surveillance of the high official of the U.S. Army Air Forces. Recently Major General Barton K. Yount, head of the Flying Training Command, and Major General Ralph P. Cousins, commanding the West Coast Training Center visited the field.
General Yount expressed at being well pleased with the program and its progress.
After this paper goes to press ;this field will probably be honored with a visit from General H. H. Arnold, commander of the United States Army Air Forces, and General George C. Marshall, Chief of Staff of the United States Army.
With Avenger Field and the 318th being such a focal point of interest it might be well to speak of the history and traditions of the field and the growth of the program
In June, 1942, this field was inaugurated as a school for training pilots for the British Empire. In August of the same year the U.S.Army Air Corps designated this field as a 'primary school for our own Air Corps cadets. Six classes of cadets were graduated and two more groups were approaching completion of their courses when in February, 1943, the first class of women pilot trainees arrived. For six weeks we of that classes, known as 43-W-4, shared the canteen, passing glances and occasionally a few words with boys who are now at other bases well on their way to becoming fine combat pilots. It wasn't much in the way of personal contact for we were both working too hard. We didn't get to know each other well but we feel they are a part of our history. We are proud of them and will always be wishing them blue skies, fast ships and many tomorrows.
In April of 1943 it was decided by the Gulf Coast Training Center and the Flying training Command to transfer the 43-W-4 class from the original experimental Houston school to Avenger Field to be joined with the 43-W-4 class here; thus the eventual transfer of all women pilot training to this field was to be expedited.
I don't think any of us who were on the flight line the day the girls flew in from Houston will ever forget the wonder and pride we felt at seeing those ships come out of the southwest, their sun-splendid wings bearing true to Avenger Field. The, we did not know personally the girls who flew them yet they were a part of us and it seemed right that they should join us so. The were symbolic of all of us known and unknown that are, and will be fated to fly across the vast skies of this great continent during these war years, serving our country in the way of her need and our desire.
To others who have joined us, classes 43-W-5 and 43-W-6 you belong to Avenger now, to the 318th an its fast growing traditions of honor and duty above self. We are not the first to send our wings charging the cloud heights for our country. We are preceded by the WAFS attached to the Air Transport command and the three first classes in the to be dissolved 319th at Houston. We owe much to their fine records. To us it may seem unfortunate they could not have shared with us Avenger Field but that is because we are, in a way, born here into our ultimate in aero achievement, and being thus unforgettable, Avenger becomes the way to the stars.