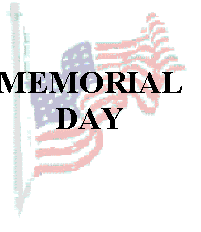 by Julia Lauria-Blum
On an overcast day in May, nearly 50 years after the end of World War II, a Memorial Day procession of North

American "SNJ's depart the runway at Republic. Upon ascent, they head west toward my home and journey toward lower Manhattan to fly a "missing man formation" around the pier of the U.S.S. Intrepid and the Statue of Liberty, commemorating those who have given their lives in the service of their country.
Within moments of takeoff, the distinctive sound of their engines can be heard approaching my community. I rush outdoors to view the spectacular airplanes that are like visitors from another remnant of time. These planes were the Navy version of the United States Army Airforce, AT-6 "Texan", an advanced trainer flown by nearly every American pilot during World War II… including the

very first women to pilot military aircraft in 1942.
From my backyard I watch the lofty parade of aircraft as their resonance slowly begins to fade away. They remind me of the familiar music of another era. I imagine the music of Glenn Miller or, maybe, Benny Goodman and visualize my mother dancing with uniformed soldiers as a volunteer with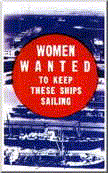 the USO. She is one of countless American women allied on the home front, assisting the war effort in any way that she can. She is in her early twenties, independent and fun, confident and refined, and very much alive. The memories of this era and her youth quietly reside within her for the remainder of her life.
On the first Mother's Day following my mother's death in the early 1980's, I visited a mausoleum at the cemetery where she is laid to rest. As I walked down a dim hall, passing hundreds of names and dates inscribed on the walls surrounding me, I came upon the grave of a young woman interred beside her parents. It was both her youth and a bronze plaque that led me toward the square marble tablet that bore her name. The plaque contained the inscription:
ALICE LOVEJOY
(WASP)
WOMAN AIR FORCE SERVICE PILOT
KILLED IN AN AIRPLANE CRASH
IN THE SERVICE
OF HER COUNTRY
SEPTEMBER 13, 1944
AT ST. PORT ISABEL CHANNEL
--TEXAS--
I looked around at the enclosed surroundings which seemed like such an improbable place for a young woman to end up … and a WWII pilot who had died in the service of her country ? From a daughter's perspective, I felt sorry that this young woman never had the opportunity to share another Mother's Day with her mother again. As a recent college graduate, I wondered why I had never learned about or heard of the WASP in any history class prior to that moment.

It seemed ironic that only through Alice Lovejoy's sacrifice, would I learn of, and appreciate, the largely unrecognized story of the Women Airforce Service Pilots of WWII. In the years to come, I discovered how these young women offered their skills and love of flight as pilots to the U.S. Army Air Forces as civilians, in order to ease the shortage of male pilots desperately needed for overseas combat duty. I learned how they became the first American women to fly military aircraft on the homefront in every capacity except combat, logging 60 million miles for their country in the course of only 2 years. Sadly, I learned that 38 of these young women gave their lives in the service and that their bodies were sent home, receiving no military burial or honors, or acknowledgement….. no American flag, no Gold Stars for the grieving families of these daughters.
Years after my initial exposure to the story of the WASP, I discovered how Alice Lovejoy died in pursuit training, flying formation in an AT-6. Through her story, I gradually came to learn more about the Women Airforce Service Pilots and while learning of their many outstanding achievements, I came to discover how vital they were in assisting our country and the allies to victory in WWII. Considered civil service, they were disbanded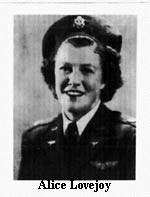 abruptly and sent home to quietly keep their memories in the distance… finally gaining belated veterans status from Congress in 1977, after a long, hard fought battle. Time passes swiftly..

On Mother's Day of 1998, I returned with my family to the cemetery that I still visit, on days such as this. My daughters placed a small bouquet of flowers by Alice's marker, and with that, a small flag for Memorial Day. In the present, and now from a mother's perspective, it is difficult to comprehend the magnitude of sorrow and loss that Alice's mother must have experienced… because of the tragedy of war. In the quiet of that place, I close my eyes and visualize the airplanes that fly from my neighborhood on Memorial Day to commemorate the sacrifices of so many. I think of the lessons I've learned about dedication, perseverance and courage through women such as the WASP, and Alice Lovejoy. Like my own mother, it is the example of their lives that have inspired and continue to inspire me in ways they could never imagine….and those are the things that simply cannot be put into words.

If you would like send an email for author and tell her what you think of her article, PLEASE DO! We'll be happy to pass it on.
webmaster@wasp-wwii.org

___________________________________

The WASP were deactivated in December of 1944...how they got home was up to their base commanders, the condition of the planes, and how much change they had in their pockets!


"Gee, Ma, I Wanna

Come Home!"
from a speech by
Shutsy Reynolds, WASP
April 24, 1998
I want to just hit lightly on ...how well the Army took care of us., and I really appreciated it...because we were deactivated on December the 20th. I was in California. Word came down that the base commander should provide aircraft ...get the WASP as close to home as possible, and I thought, well, that's not too bad.
The base I was on, they assigned a

BT-13. There were two of us...one going to Philadelphia, one to Pittsburgh. Fine deal, two second lieutenants.
...I didn't have any money. After we cleared the base I had a quarter. And I thought well, that's no problem, the Army will take care of us, after all it's only five days till Christmas. They'll be generous.
A classmate said, "Well, I owe you ten dollars, so here's ten dollars." So, I left California with ten dollars and twenty five cents.
We got as far as Las Vegas. First stop...and for some mysterious reason, most of these BT's just had to be grounded. And the two lieutenants said, "See ya later!"
I lived in OPS (Base Operations), I slept in OPS, I ate donuts till they were coming out of

my ears. I took the twenty-five cents, changed it into nickels, and I spent my time putting it in ... "Mom, I'm in Las Vegas. Could you send me fifty dollars?" "Mom," I was somewhere else, you know, I forget where, "could you send me fifty dollars?" She says, "I sent you fifty dollars." I said, "Well, I didn't get it."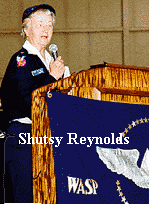 My mother spent over three hundred dollars... Christmas Eve, I didn't get any money and I'm in Akron. So...I called my mother...the last nickel. The ten dollars was long gone, and she says, "I can't help you," and I say, "we have an aunt here...we don't talk to her, but... do you think---- for the sake of the war..."
So, she put me on a bus.

Anyway, that's my story. It was nice talking to you. Good luck & happy flying!

CLICK to see SHUTSY's CARTOON of the Foggy Goggles International Flying Society!
__________________________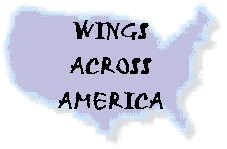 A Beginning
by Nancy Parrish
Over two years ago, I began working on a project to honor a unique group of pioneering Americans: the Women Airforce Service Pilots (WASP). I became interested because my mother is a WASP, but I have since become passionately committed, because I believe that role models should be remembered, their sacrifices honored, and their stories preserved to inspire future generations. These women made a difference. They should not be forgotten!
THE NEED:
Most Americans have never heard of the WASP. After deactivation, many of their training records were unintentionally destroyed, while the available military records of their service were sealed, marked "classified" and filed away in government archives for 33 years. By that time, the history of World War II had already been written, the WASP chapter either

missing or only included as a brief footnote.
That's unacceptable.
The Idea
So, the questions were:
If much of the history is missing, how do you fill in the blanks?

If the official textbooks are already written, how do you rewrite history?
Well, as for question one, we're fortunate, because many of the eyewitnesses to the WASP history are still alive and well! (However, they are all over 70--time is critical!) They are scattered across 48 states, each with their own personal stories, records, scrapbook and memories. As for question number two, I was blessed with an incredible technical curiosity, and about three years ago, I discovered the INTERNET!
No, we can't rewrite history, but we can make sure that this history is AVAILABLE for any and every one, any where in the world, including the computerized classrooms of the next century . We can make sure that this digital resource is as complete as possible.
Many of these women have never told their stories. Many have never been asked.
The Mission:
Document, Digitize, Publish and Preserve the History of the WASP
I realize there are some museums, libraries, and Air Force bases who have limited exhibits, artifacts, and oral histories. That's terrific! We'll link...we'll share information. However, their

individual collections and information are available only to the small number of people who are able to visit each location. Wings Across America expands and enriches their efforts by creating a digital video archive of the eyewitness testimonies of every surviving WASP and by putting all the WASP information at the fingertips of anyone with a computer anywhere in the world!
Wings Across America will include a digital library, virtual museum and interactive learning programs to make the WASP history come alive, inspiring future generations to become the pioneers of tomorrow.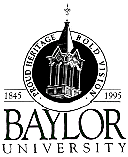 Anything is possible...and with the support of Baylor University (which we have) and sponsors (which we're still looking for) with the courage to support a cutting-edge multimedia project about women, about courage, and about doing the right thing...Wings Across America can truly FLY!
Details of this project will be published as the Wings Across America on-line brochure-- within the next month. If you'd like more information sooner, please email me!
**********************************
by Jacqueline Cochran
reprinted from the Fifinella Gazette, March 1, 1943
The tribute to me in the first issue of The Fifinella Gazette touched me deeply and pleasured me no end.
With the start of the war, I became convinced that there was a sound, beneficial place for women in the air--not to compete with or displace the men pilots, but to supplement them--and I never let up trying to establish in practice the birth of my belief. I flew a bomber to England partly to bring out the point, and partly to see what the English women pilots were accomplishing and how they were organized.

On my return, I worked with the General Staff of the Ferry Command for several weeks on a plan which later developed. The time just then did not seem opportune; so, with the blessings of our own authorities, I took twenty-five women pilots to England, where they have been doing a fine job, flying operational equipment (behind the lines) including Hurricanes, Spitfires, and two-motored bombers.
Now, we are on the verge of seeing this whole dream blossom into reality in a truly big way. The Women's Flying Training program has already approached the proportions of our entire air program prior to the start of the war.
What will be the ultimate result -- good or bad -- will be up to the girls themselves. You of the first classes will have the real responsibility. By your actions and results the future course will be set. You have my reputation in your hands. Also, you have my faith. I have no fear -- I know you can do the job.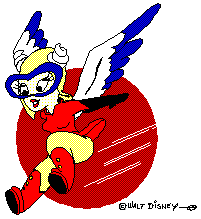 After graduation, I will be following you with anxious and proud eyes, and your success will be my satisfaction.
This work of mine -- planning, sitting at a desk, and working well into the night as regular routine -- is no great pleasure for one who loves to have her hand on the throttle; but, it has to be done if you are to succeed. My compensation can only come from your morale and accomplishments. -- I'm proud of you!
________________________
by Nancy Parrish
The very least I can do is tell you a little bit more about my friend Shutsy. She probably won't like it. She is not comfortable being singled out. She likes to be part of the group...one of the gang. She is a gifted, talented and extraordinary WASP...yet, she is typical of so many other WASP.
Shutsy didn't fly pursuits. She didn't fly bombers. She wasn't the first, and she wasn't the last, and thankfully, she didn't get killed in the line of duty.
She was a member of the WASP graduating class of 44-W-5, just one of the 72 who graduated out of a class of 132. She didn't win any air races or set any records. Shutsy, like so many other WASP, just did her job. She followed orders, served her country, and then, when the WASP were deactivated, had to try to get home any way she could.
Happy Memorial Day, Shutsy,

from all of us who are grateful for what you did. Every time we see a flag go by or hear "God Bless America," there's a little prayer that goes up for you and for all those like you. You made a difference then, and you're still making a difference today. God willing, your service to your country will always be remembered and your life will continue to make a difference in the lives of those who will grow up and make a difference tomorrow.
God bless you all,
every one,
and God bless America!