Governor--the Flying Family's pet lion--who was also a 'flying lion!'

Janet Lee on the radio at NBC


Janet Lee and Gary Cooper


The Flying Family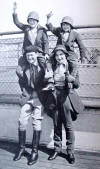 The Flying Family


cocomalt puzzle
save your boxtops and get a free puzzle!

Program recorded August 4, 1939, staring the Hutchinson family: Colonel George R. Hutchinson, Mrs. Hutchinson and daughters Katherine and Janet Lee. Janet Lee Hutchinson is a WASP, class 44-W-6
"Audio provided by Jack French, editor of RADIO RECALL, the journal of the Metropolitan Washington Old-Time Radio Club, http://www.mwotrc.com"
OTHER LINKS:
Birds, Planes & Hutchinsons
Round the World flights
Radio Aviators
In the Air on the Air