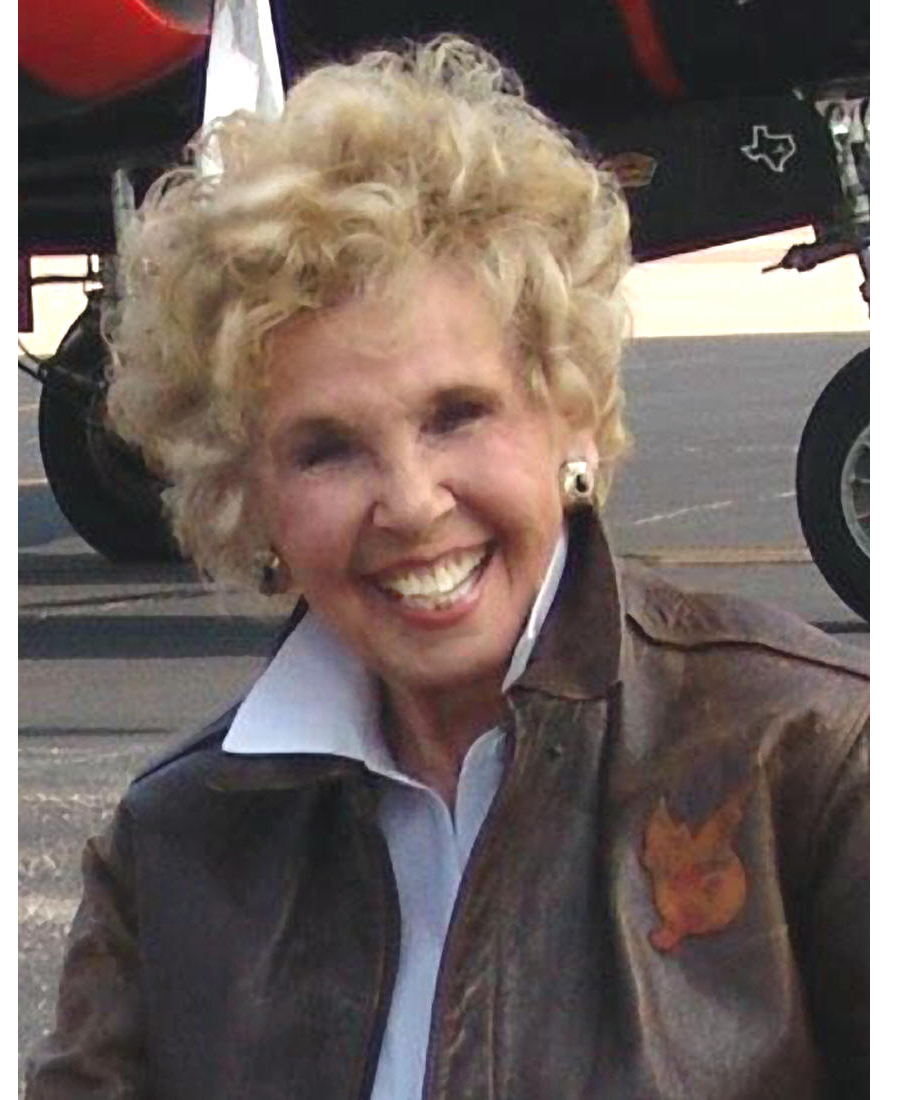 WASP DEANIE PARRISH, Class 44-W-4
Waco, Texas
Associate Director Wings Across America.. Deanie is an expert in the history of the WASP, having personally interviewed over 100 WASP in 19 states and has volunteered her time over the last 17 years to ensure that the WASP history is not forgotten. She is also a sought after motivational speaker.

Deanie grew up believing that 'nothing is impossible'. 76 years ago, she asked a primary cadet instructor why, just because she was a girl, she couldn't learn to fly like the aviation cadets? He taught her to fly! When she heard about a program at Avenger Field to teach qualified young women pilots to fly military aircraft, she applied and was accepted. She boarded a train in Florida and traveled to Sweetwater, where she trained for 7 months. When she graduated and became a WASP, she was assigned to Greenville AFB, Miss as an engineering test pilot in BT-13s and UC-78s. She was transferred to Tyndall AFB, Fla., completed B-26 school and was retained as an air-to-air B-26 tow target pilot to train gunners for combat (using live ammunition).
After the WASP were disbanded, Deanie married a career AAF B-29 pilot, raised 2 daughters and spent 5,000 hours as a hospital volunteer. In 1979, she graduated summa cum laude from the University of Houston. Other credits include: Community Houston Memorial Hospital Volunteer President, Historic Waco Foundation, Charter Member Waco Welcome Corps, Big 12 Task Force, Texas Aviation Hall of Fame, "2005 Sprit of Women Award"-- Women's Chamber of Commerce of Texas; International Forest of Friendship, Baylor Alumni by Choice, Daedalian. In 2005, the Silver Wings Detachment of Arnold Air Society at Texas Christian University was named in her honor.

In 1992, Deanie wrote "WE GOT THE STUFF, The RIGHT STUFF," for the 50th Anniversary WASP Convention in San Antonio. Deanie's song was the first WASP RAP ever written. It tells the entire history of the WASP "IN RAP!"

Over 12 years ago, she and her daughter, Nancy, convinced the Sweetwater City Commissioners that the WASP deserved a museum at Avenger Field. Impossible? She was a founding member of the Board of Directors of the National WASP WWII Museum and served as the first Facilities Chairman, helping to design the exhibits for the Museum.
Deanie is featured in the "FLYGIRLS OF WWII" traveling exhibit. She is also responsible for all the text panels in the exhibit. The FLYGIRLS opening photo of a WASP strapping on a parachute is of Deanie, taken in 1944.
March 10, 2010: Deanie was honored to accept the Congressional Gold Medal at the Capitol on behalf of all the WASP

September 26, 2010: Deanie was honored to accept the Air Force Association's Lifetime Achievement Award on behalf of all the WASP
In 2013, Deanie was featured in "FLYGIRL WWII," the first WASP app. It showcases many photos from Deanie's WWII scrapbook, and includes additional videos, songs, photos and bonus pages from Nancy Parrish's book, "WASP In Their Own Words."
In 2014, Deanie's story was included in the 2 part PBS special documentary, Unsung Heroes, produced by Ron Howard, Directed by Frank Martin.
Deanie is hard at work on her next project, a book on one of the extraordinary WASP she interviewed. As she continues to share the history of the WASP, she still believes that 'With God, nothing is impossible.'